Panpan
I am a member of the post-90s generation. Since I was young, I had been affected by the surrounding circumstances. Additionally, a song called "Wife Is the Captain" was once in vogue and a sentence of the song was, "Wife is the captain and husband is the lieutenant." I, frequently listening to the song in those days, progressed from paying no attention to the viewpoint to finally accepting it. So when I grew up and was in love, there was a strong desire in my heart: I must make my boyfriend obey my orders. In this way, I can gain a foothold in his family after marriage, so as not to suffer wrong. Looking at my male relatives and friends, I found nearly all of them were henpecked. They listened to whatever their wives said. My parents were a case in point. As I saw, dad never dared to yell at mom. Whoever was wrong, mom always got the better of quarrels while dad was always bullied. Moreover, mom always said to me, "Dominate him when you have a boyfriend. If you fail to do so before marriage, he will be more difficult to manage after marriage." Gradually I took it for granted that a husband should listen to his wife.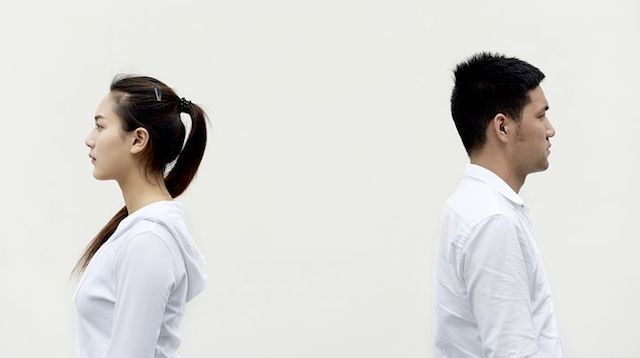 After getting married, I always found faults with my husband intentionally or unintentionally and made a quip to get the better of our quarrels. My aim was just to let him listen to me and to have a place in his heart. If there was anything he didn't act according to my will, I would get into a temper, get a handle on him, and keep gripping about him. Furthermore, he usually forbore with me. As time went on, I made severer demands on him. Even before he went out to have a meal and drink with his friends, he must tell me in advance. As long as he disobeyed me and came home too late, I would burst into a rage whatever sound reasons he had. I never showed consideration for his feelings; nor did I sit down to have a heart-to-heart talk with him calmly. Gradually, our feelings grew cold. After coming back from work, seldom did we talk with each other. He played with his phone while I did my housework. Facing that kind of life all day, I was in anguish and depression, and I didn't know how to face my future life.
In 2014, my elder sister preached God's kingdom gospel to me. After reading God's words and listening to brothers and sisters' fellowship, I realized the reason why I dominated my husband all day long and asked him to listen to me in everything is that I was living in dependence on the satanic disposition of "I'm the boss". It was not the life to be lived by a normal person. Then I came into God's presence and prayed for Him to transform me, so that I could be at peace with my husband.
One evening, my husband called to tell me he wouldn't be home for supper. Hearing that, I grew angry, thinking: Over these days, you have been out for drinks invariably. Don't you even care about me? Wearing a long face, I thundered over the phone, "What? Go out drinking again! Listen! Get back before 11. Otherwise, I will deal with you!" After saying that, I flung the phone and threw myself down on the bed angrily. At that moment, I thought of God's words: "If you believe in the dominion of God, then you must believe that the things that happen every day, be they good or bad, don't happen accidentally. It is not that someone doesn't get on with you or opposes you on purpose; it is actually all arranged by God and He orchestrates everything. What does God orchestrate everything for? It is not to reveal your shortcomings for everyone to see or to expose you; exposing you is not the final aim. The aim is to perfect you and save you. How does God perfect you and save you? Firstly, He makes you aware of your own corrupt disposition, your own nature and essence, your own shortcomings and what you lack. Only by knowing these things and understanding them in your heart can you cast them off—this is a God-given opportunity. You must learn to seize this opportunity and know how to seize it; don't lock horns and don't resist. If you are always competing with the people, events, and things that God has arranged around you, if you are always trying to extricate yourself from them, always feeling dissatisfied, always harboring a disagreeable mentality and always misunderstanding, then you will find it very difficult to enter into the truth. Through obeying, seeking, praying more, retreating to your spirit and coming before God then, unbeknownst to you, a change will happen in your inner condition" ("If You Wish to Attain the Truth, Then You Must Learn From the People, Matters, and Things Around You"). Realizing that God orchestrated the matter to transform me, I prayed to Him in my heart, "O God! I know my husband's going out drinking is by Your permission. No matter when he will come back, I'm willing to obey and learn from it." In thinking of this, my heart settled considerably and I fell asleep soon. At around three in the morning, I woke up. Seeing he wasn't home yet, I felt shaken and distraught. At that point, I was impatient to get hold of him to ask whatever was going on. But when I picked up the phone, a thought came to my mind, "Whenever he will come back is in God's hand. Even if I make an irate call to him, he does not necessarily return. I'd better obey God's sovereignty and arrangements." Though I had the wish, yet because he didn't come back at this late hour, there was an inexplicable feeling of pain in my heart, as if a big stone weighed upon it. Then I thought to myself: "I've told you when to return, but you haven't shown up till now! You turn a deaf ear to my words and have no regard for me at all…" The more I thought, the angrier I was. Turning and tossing in bed, I couldn't wait to call him to make a scene and then parted company with him. But what little sense I had restrained me—putting down the phone I just picked up. I kept calling to God desperately in my heart to help me desist from committing senseless acts. Thus, at six that morning, my husband called and told me he slept at his friend's house last night. At that moment, I couldn't help losing my temper with him. After that, I was in agony on the inside: I treated him by satanic disposition again. How can I pass the rest of my life with him? We just married and there's still a long way to go. How can we get through it? I even felt my existence meaningless. At exactly that moment, I thought of God. Then I prayed to Him, "Oh God! I feel painful when facing with this matter. I really can't overcome it by my own self-control and I don't know what I should do. Oh, God! May You lead and enlighten me, so that I can understand Your will."
Afterward, I saw a passage of God's words, "One after another, all these trends carry an evil influence that continually degenerates man, that lowers their morals and their quality of character more and more, to the extent that we can even say the majority of people now have no integrity, no humanity, neither do they have any conscience, much less any reason. So what are these trends? You cannot see these trends with the naked eye. When the wind of a trend blows through, perhaps only a small number of people will become the trendsetters. They start off doing this kind of thing, accepting this kind of idea or this kind of perspective. The majority of people, however, in the midst of their unawareness, will still be continually infected, assimilated and attracted by this kind of trend, until they all unknowingly and involuntarily accept it, and are all submerged in and controlled by it. For man who is not of sound body and mind, who never knows what is truth, who cannot tell the difference between positive and negative things, these kinds of trends one after another make them all willingly accept these trends, the life view, the life philosophies and values that come from Satan. They accept what Satan tells them on how to approach life and the way to live that Satan "bestows" on them. They have not the strength, neither do they have the ability, much less the awareness to resist" ("God Himself, the Unique VI"). "Did you ever realize that what you are doing today-namely, … considering yourselves as always right and better than others, being arrogant, and acting savagely like wild animals in mountains and rough like the king of the beasts—where is the likeness of a human being? You are rude and unreasonable" ("The Essence and Identity of Man"). From God's words, I knew the root of my misery was that I was poisoned by the ideological view of "Wife is the captain and husband is the lieutenant." This view has become a kind of social trend which everyone adores and lives by. So I took it for granted that a husband should listen to his wife in this era. Therefore, whatever I asked my husband to do, he had to act accordingly; he couldn't do whatever I didn't permit him to do; if he didn't listen to me, it was his fault and I would argue with him. Moreover, as I have been corrupted by Satan, satanic natures such as arrogance and conceit still remain within me. Thus I became less and less humane and completely lost my morality and reason. I, just like a fishwife, was very unreasonable most of the time. I always wanted to proclaim myself king before my husband and asked him to act according to my way of life and to listen to me in everything. In fact, my husband and I are both creatures in the hands of God and we are equal in front of Him. So the saying "Wife is the captain and husband is the lieutenant" is untenable at all. I am not entitled to control my husband. Both of us should worship and submit to God. This is the necessary reason we must be equipped with. I dictated to my husband, which was arrogant and the most unreasonable, and which was not only disliked by my husband but even more hated by God. When I dictated to him relying on these satanic poisons and thoughts, he not only refused to obey but was less and less willing to go home, see me or talk with me. We grew away from each other and there was more conflict between us. We had no patience and tolerance for each other and lived in endless altercations, which brought misery to me and harm to our family. At that time, I realized that I was so corrupted by the evil social trends that I had no likeness of man in the slightest, unable to get along with my husband. In today's society, how many people are infected by the evil thoughts brought by social trends, living by the satanic poison of "I'm the boss." Many a married couple stands on equal ground and in the end makes their family break apart. Couples are unwilling to be controlled by each other, and because of just one word of disagreement, they often struggle fiercely and argue red in their face. Still so many are nominal couples and have to support the family only for their children. At that moment, I came to understand God's good intentions. He couldn't bear to see I was harmed by Satan, so He wants to save me. At this thought, I felt God's word is so precious, which made me have discernment about the scheme of Satan—using the social trends to poison people. If I encounter things like this in the future, I will live according to His word, breaking away from the affliction of Satan and living out the manner of a true person.
After a period of time, one evening, before I knocked off, my husband called to tell me that he would help his friend to move house and after that they would go out drinking. I thought: He just helped his friends to move two days ago. How could they move again? How is it possible to move every other day? He is obviously finding an excuse to go out drinking. Immediately, I was in a bad mood and wanted to lose temper with him. But I realized my corrupt nature was about to erupt, so I prayed to God silently in my heart, "O God! When I encounter this environment, I want to dominate my husband again. May You keep my heart. I'm willing to forsake my flesh and no longer be subject to Satan's mocking! Please lead me to act according to Your words." At that point, God enlightened me to remember His words, "Everything that happens to people is when God needs them to stand firm in their testimony to Him. Nothing major has happened to you at the moment, and you do not bear great testimony, but every detail of your daily life relates to the testimony to God. If you can win the admiration of your brothers and sisters, your family members, and everyone around you; if, one day, the unbelievers come, and admire all that you do, and see that all that God does is wonderful, then you will have borne testimony" ("Only Loving God Is Truly Believing in God"). I suddenly understood: I should bear witness for God in everything that happens to me each day. God wants to purify and transform me through this matter, making me live out a normal humanity and no longer live by the thoughts and views of Satan, so that I can win the admiration of my family members and unbelievers, and can bear witness and glorify God. When thinking of this, I was in a good humor and my heart was lightened. I didn't feel angry at all. Later, I sent messages and chatted with him on my own initiative as if nothing had happened. He found I didn't quarrel with him and directly asked me, "Aren't you angry?" I replied, "Absolutely not! After you finish work, come back soon." Seeing me really not mad at him, he was very happy and his attitude toward me improved. He began to talk and laugh with me. Thank God for His words being my beacon and reconciling us.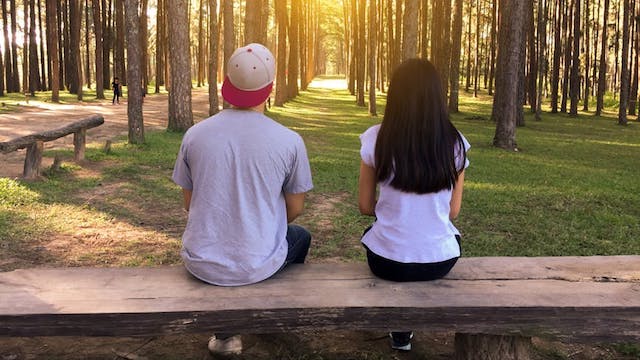 Later, the more God's words I read, the more truth I understand. Therefore, I no longer quarrel with him over some trifles. Not only can I be tolerant toward him, but also I can listen to his suggestions. Seeing my changes, he becomes increasingly caring and considerate. In addition, he is willing to discuss everything with me. He doesn't go out drinking as often as before. We always chat and open our hearts to each other when we are free, which brings us more happiness and hope. From my experience, I see: I became less and less humane and senseless when I was basing my life on the thoughts, views and poisons of Satan, which brought me only sufferings; while, I can live out normal humanity, get on well with my husband and live a free and liberated life when coming before God and living by His words. I thank God for saving me. I will read more His words in the future and live out the likeness of a real man according to His requirements. To God be the glory!
---
Dear brothers and sisters, If you have any understanding or enlightenment from God, welcome to share with us.
1. Via the online chat window at the bottom of the website.
2. Send an email to

[email protected]

.
We sincerely hope we'll grow spiritually through sharing with each other.
Chat With Us!
Now, disasters are occurring frequently everywhere. In the Philippines, the pandemic and the famine have not passed yet and powerful Typhoon Molave, Goni and Tropical Storm Atsani have landed. Biblical prophecies of the coming of the Lord have been fulfilled. It stands to reason that the Lord has returned—so why have we yet to welcome His arrival? Will we not be plunged into the great tribulation if this carries on? And just what should we do to welcome the Lord's coming?