And we know that all things work together for good to them that love God, to them who are the called according to his purpose.
– Romans 8:28
Thoughts on Today's Verse…
The verse shows that as for the ones who love God, no matter what happens, they will benefit from the things. In fact, there is God's will in the comfortable or difficult environments. For example, Joseph suffered a lot after he was sold to Egypt, but he always revered God. When he was tempted by his master's wife, he said, "How then can I do this great wickedness, and sin against God?" (Genesis 39:9). Though framed and put into prison, he didn't complain about God, and was always guided and helped by God. Then he was in charge of the prison. One day, he interpreted the Pharaoh's dream by relying on God. Therefore he was highly thought of by the Pharaoh and became the prime minister of Egypt. During the famine, Joseph's brothers came to Egypt to buy grain. He didn't take revenge on them but said to them, "Fear not: for am I in the place of God? But as for you, you thought evil against me; but God meant it to good, to bring to pass, as it is this day, to save much people alive. Now therefore fear you not: I will nourish you, and your little ones" (Genesis 50:19-21). From Joseph's multiple twists of experiences, we can see that he always had God's place in his heart. In such environments, he didn't complain about God but relied on God and understood His will. Thus, he obtained God's blessings and guidance, which protected him from falling into the temptations to sin. It can been seen that the ones who love God will surely gain benefits from what happens to them.
In our daily lives, we'll be faced with many something unpleasant. Sometimes we'll complain or misunderstand God. If we keep our faith in God like Joseph to seek God's will and learn the lessons we should learn, then these environments are greatly beneficial to us. Just as God's word says: "If you wish to be perfected by God, you must learn to experience all things and be enlightened in all that you face. Whenever you are faced with something, be it good or bad, you should benefit from it and it should not cause you to become passive. No matter what, you should be able to consider it by standing on the side of God, and not analyze or study it from the perspective of man (this is a deviation in your experience). If this is the manner of your experience, then your heart will be taken over by the burdens for your life; you will live constantly in the light of God's countenance and will not easily deviate in your practice. Such kind of man has great prospects."
---
Today's Verse Illustrated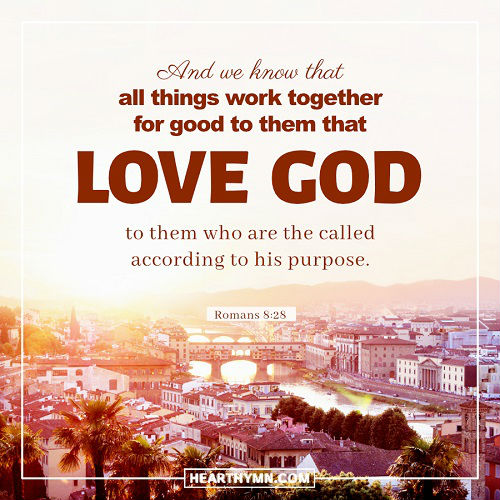 ---
• We welcome you to use our Bible Verse of the Day to enrich your spiritual life.
Chat With Us!
Now disasters occur frequently. How should we rely on God and worship Him to strengthen our faith? We invite you to join our online meeting group to seek the way together.