And it was so, that after the LORD had spoken these words to Job, the LORD said to Eliphaz the Temanite, My wrath is kindled against you, and against your two friends: for you have not spoken of me the thing that is right, as my servant Job has. Therefore take to you now seven bullocks and seven rams, and go to my servant Job, and offer up for yourselves a burnt offering; and my servant Job shall pray for you: for him will I accept: lest I deal with you after your folly, in that you have not spoken of me the thing which is right, like my servant Job. So Eliphaz the Temanite and Bildad the Shuhite and Zophar the Naamathite went, and did according as the LORD commanded them: the LORD also accepted Job. God Blesses Job And the LORD turned the captivity of Job, when he prayed for his friends: also the LORD gave Job twice as much as he had before.
– Job 42:7-10
Thoughts on Today's Verse…
In his trial, Job can still fear God and shun evil and bear testimony to God. When Job was tried, Job's three friends only looked at the surface of things and made arbitrary conclusions, and said the words that judged Job, so God condemned them as fools who resisted God, and God was disgusted with such people. Because God was pleased with Job, He asked Job to pray for Job's three friends. This is the very authority that God gave to Job. Finally, God forgave them because of Job's prayer. I saw a passage in a spiritual book saying: "Job prayed for his friends, and afterward, because of Job's prayers, God did not deal with them as befitted their folly—He did not punish them or take any retribution upon them. And why was that? Because the prayers for them of God's servant, Job, had reached His ears; God forgave them because He accepted Job's prayers. And what do we see in this? When God blesses someone, He gives them many rewards, and not just material ones, either: God also gives them authority, and entitles them to pray for others, and God forgets, and overlooks those people's transgressions because He hears these prayers. This is the very authority that God gave to Job. Through Job's prayers to halt their condemnation, Jehovah God brought shame upon those foolish people—which, of course, was His special punishment for Eliphaz and the others." It's clear that we should walk the way of fearing God and shunning evil in believing in God, so that we can be praised by God.
• We welcome you to use our Bible Verse of the Day to enrich your spiritual life.
---
Today's Verse Illustrated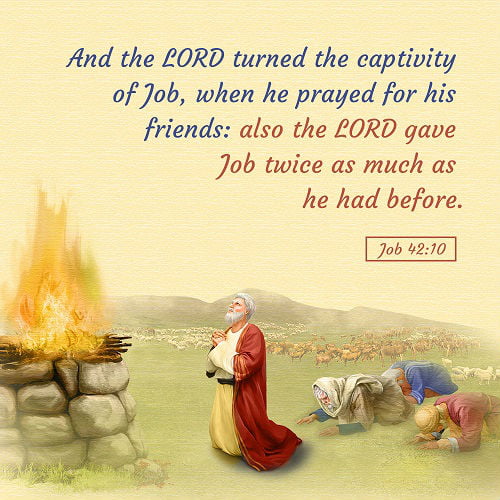 Chat With Us!
Now disasters occur frequently. How should we rely on God and worship Him to strengthen our faith? We invite you to join our online meeting group to seek the way together.