He that believes on the Son has everlasting life: and he that believes not the Son shall not see life; but the wrath of God stays on him.
– John 3:36
Thoughts on Today's Verse…
These verses above are all the Lord's words. Many believers think that they will surely gain eternal life as long as they repent and confess, spread the gospel, bear more fruit and keep the way of the Lord according to the Lord Jesus' requirements. However, the Lord said, "Truly, truly, I say to you, Whoever commits sin is the servant of sin. And the servant stays not in the house for ever: but the Son stays ever" (Jhn 8:34-35). "And said, Truly I say to you, Except you be converted, and become as little children, you shall not enter into the kingdom of heaven" (Mat 18:3). So, do our opinions conform to God's will?
From the Lord's words we can clearly see that God's kingdom is holy. Only those who are cleansed and pure like a little child can enter the kingdom of heaven and gain eternal life. However, although we've followed the Lord and been redeemed, we still live in a never-ending cycle of sin and confession, and always reveal our corrupt dispositions such as arrogance, greed and deceit. Thus, how can we be able to enter the kingdom of heaven? How should the Lord fulfill His promise of eternal life since we still always sin and confess?
The Lord Jesus said, "And if any man hear my words, and believe not, I judge him not: for I came not to judge the world, but to save the world. He that rejects me, and receives not my words, has one that judges him: the word that I have spoken, the same shall judge him in the last day" (Jhn 12:47-48). "I have yet many things to say to you, but you cannot bear them now. However, when he, the Spirit of truth, is come, he will guide you into all truth: for he shall not speak of himself; but whatever he shall hear, that shall he speak: and he will show you things to come" (Jhn 16:12-13). "Who are kept by the power of God through faith to salvation ready to be revealed in the last time" (1Pe 1:5).
From the above verses, we know that the Lord will express the truth when He comes again. He will do the work of judgment to save us, free us from sin and bestow on us eternal life.
---
Today's Verse Illustrated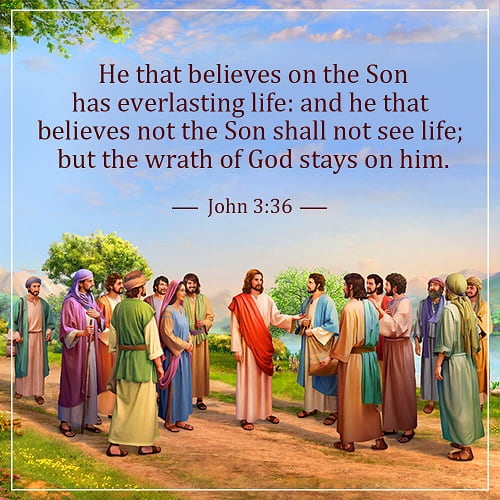 ---
• We welcome you to use our Bible Verse of the Day to enrich your spiritual life.
Chat With Us!
Now disasters occur frequently. How should we rely on God and worship Him to strengthen our faith? We invite you to join our online meeting group to seek the way together.