…Lord, I believe; help you my unbelief.
– Mark 9:24
Thoughts on Today's Verse…
A father took his child who was possessed by demon before the Lord Jesus, he begged for the Lord's mercy and help with little faith. "Jesus said to him, If you can believe, all things are possible to him that believes. And straightway the father of the child cried out, and said with tears, Lord, I believe; help you my unbelief. When Jesus saw that the people came running together, he rebuked the foul spirit, saying to him, … I charge you, come out of him, and enter no more into him. And the spirit cried, and rent him sore, and came out of him: and he was as one dead; so that many said, He is dead" (Mark 9:23-26).
Each of us has once met difficulties, even in despair, we also pray to God with tears like the father. When we pray with true hearts, God will show His deeds to us. Hence, no more feel weak or passive. We should quiet before God and tell our actual difficulties to Him without flowery words but with our true hearts. I want to share a paragraph of words in a spiritual book: "You must have faith that everything is in God's hands, and that humans are merely coordinating with Him. If you are sincere, God will see it and He will open up all paths for you, making difficulties no longer difficult. You must be confident in this. Therefore, you needn't worry about anything. As long as you use all your strength and use all your heart, God will not make things difficult for you or force you to do what you're not capable of. What is fearful is that you say what you do not mean, saying something when you don't feel it or intend to do it in your heart. If you do this, you will be finished."
---
Today's Verse Illustrated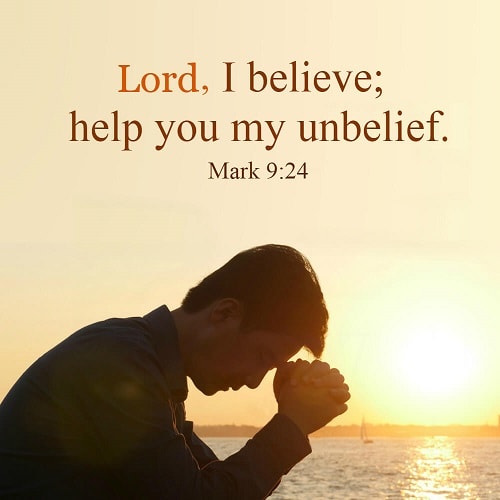 ---
We welcome you to use our Bible Verse of the Day to enrich your spiritual life.
Chat With Us!
Now disasters occur frequently. How should we rely on God and worship Him to strengthen our faith? We invite you to join our online meeting group to seek the way together.