Let them alone: they be blind leaders of the blind. And if the blind lead the blind, both shall fall into the ditch.
– Matthew 15:14
Thoughts on Today's Verse…
Look back in history, Jewish leaders exalted the Bible but didn't know God. When Jesus did the work of redemption, not only did they resist the Lord Jesus, they also deceived the people and colluded with the Roman government to condemn and kill Jesus. Meanwhile, the Jewish people believed that the chief priests, scribes, and Pharisees were familiar with the Bible and served God, so they blindly followed them. Finally, they embarked on a road of no return to resist God. However, Jesus' disciples, tax collector and Samaria woman recognized the Lord's voice and that Jesus was the coming Messiah because they humbly listened to Jesus' words, so they gained the salvation of the Lord Jesus.
The Lord said, "I am the way, the truth, and the life: no man comes to the Father, but by me" (Jhn 14:6). Only God can bestow life upon us. From that Jewish people blindly follow the Pharisees, the deep lesson we should learn is: We should follow God rather than follow man.
The Lord Jesus predicted He would come in the last days. Then in the matter of His second coming, how should we watch and prepare so that we won't repeat the Jewish people's mistakes?
• Extended Reading:
How Should We Welcome the Lord When He Knocks on the Door?
Why Did the Pharisees Oppose the Lord Jesus?
---
Today's Verse Illustrated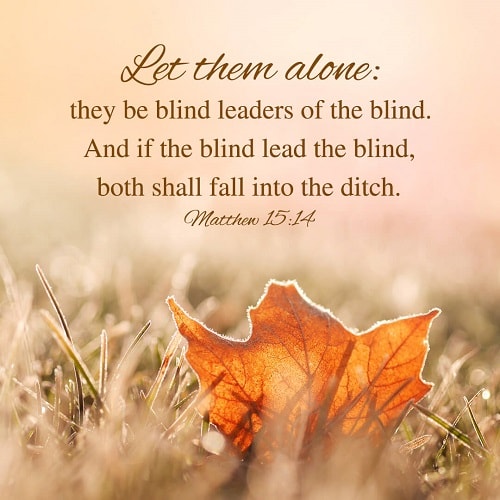 ---
• We welcome you to use our Bible Verse of the Day to enrich your spiritual life.
Chat With Us!
Now disasters occur frequently. How should we rely on God and worship Him to strengthen our faith? We invite you to join our online meeting group to seek the way together.