Casting all your care on him; for he cares for you.
– 1 Peter 5:7
Thought on Today's Verse:
In our fast-paced lives, words like care are often mentioned by us. We are worry about our future, interpersonal relationships, marriage and family life … When life is full of care, with it comes many kinds of pressure. We often hear people around us complain that the pressure was too much, and some even commit suicide because of that. People also try to remove care by various ways such as travel, talking with friends, participation in varieties of social activities. However, these can only take our mind off care, when we come to reality, the suffering still exists. Some people cannot help but ask: Isn't there a way to solve this problem?
This verse tells us to cast all our care on God. That is to say, we should entrust all things to the Lord without doubts. The Lord Jesus once promised us: "Behold the fowls of the air: for they sow not, neither do they reap, nor gather into barns; yet your heavenly Father feeds them. Are you not much better than they?" (Matthew 6:26). Yeah, God feeds the fowls of the air and enable them to have food to eat and live happily and freely. If we can rely on the Lord Jesus and submit ourselves to Him, won't we also be able to enjoy the supply of Him and lead a free life?
I once read a passage: "There is a simplest way to free oneself from this state: to bid farewell to one's former way of living, to say goodbye to one's previous goals in life…, your task is to lay aside your old view of life, stay far from various traps, let God take charge of your life and make arrangements for you, try only to submit to God's orchestrations and guidance, to have no choice, and to become a person who worships God." Let's bid farewell to our former way of living and find the ideal one, and submit future lives to God, so that we no longer worry about our lives.
Extended Reading:
• The Lord's Burden Is Light, Then Why Is My Life So Tiring?
• Relying on God, Our Life Will Be Easy
---
Today's Verse Illustrated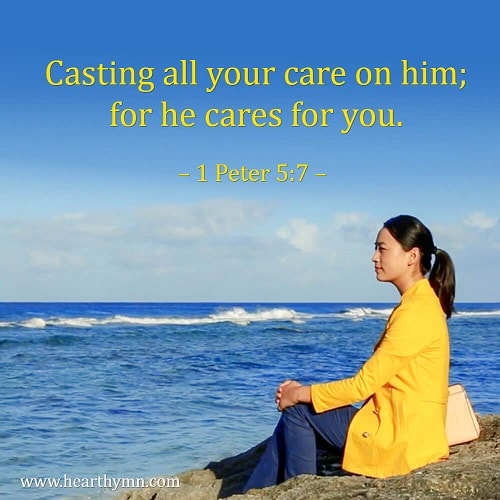 ---
• We welcome you to use our Bible Verse of the Day to enrich your spiritual life.
Chat With Us!
If you want to go deeper into Bible study and learn the news of the Lord's return, you're welcome to contact us at any time.