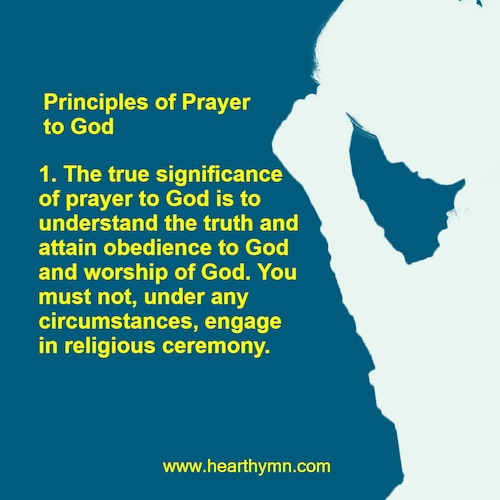 Prayer is not a case of going through the formalities, or following procedure, or reciting the words of God, which is to say, prayer does not mean parroting words and copying others. In prayer, you must give your heart to God, sharing the words in your heart with God so that you may be touched by God. If your prayers are to be effective, then they must be based on your reading of God's words. Only by praying amid God's words will you be able to receive more enlightenment and illumination. A true prayer is shown by having a heart that yearns for the requirements made by God, and being willing to fulfill these requirements; you will be able to hate all that God hates, upon the basis of which you will have knowledge, and will know and be clear about the truths explained by God. Having the resolution, and faith, and knowledge, and a path by which to practice after praying—only this is truly praying, and only prayer such as this can be effective. Yet prayer must be built upon the foundation of enjoying God's words and communing with God in His words and your heart is able to seek God and be at peace before God. Such prayer has already reached the point of true communion with God.
from "Concerning the Practice of Prayer"
Recommended:
Almighty God is My Only Salvation
Tonight, the Dormitory Light Comes on
Have You Found the Secret of Teaching? (II)
Chat With Us!
If you want to go deeper into Bible study and learn the news of the Lord's return, you're welcome to contact us at any time.