Question 7
You say Paul never exalted or testified the Lord Jesus. About what you say, I don't accept! Brother Paul wrote so many letters. Weren't they all testifying the Lord Jesus?
Answer: It's true that Paul wrote many letters, but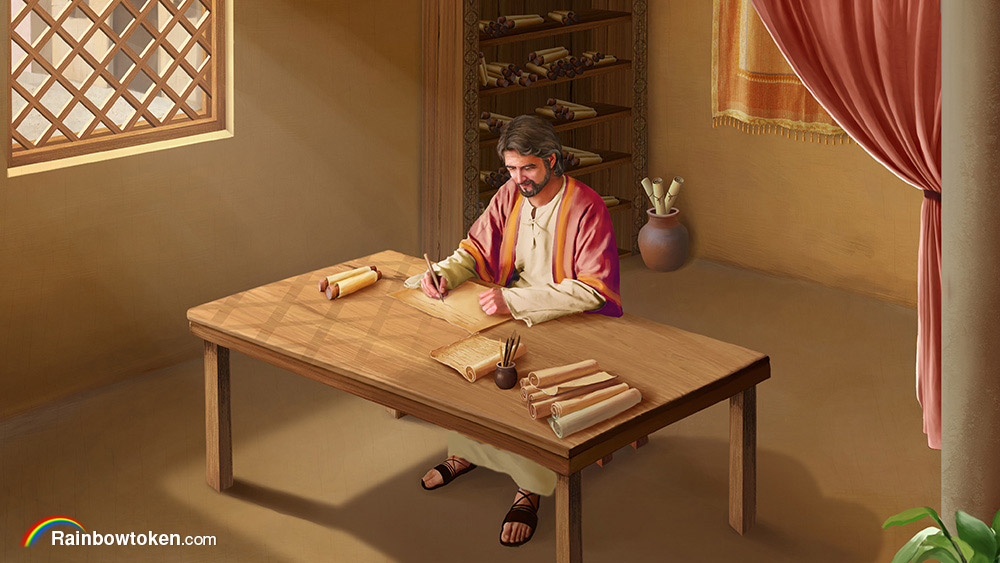 he never exalted or testified the Lord Jesus. Even when the Lord Jesus was mentioned, Paul was testifying of himself in using the name of Christ. For example, he often said in his letters "Paul, an apostle of Jesus Christ by the will of God." (Ephesians 1:1, Colossians 1:1, 2 Corinthians 1:1) What Paul meant by that was that he was made an apostle of Christ by God's will, not by the will of the Lord Jesus. But did God in heaven call Paul? No! It was the Lord Jesus who called. The Lord Jesus did not call Paul in the identity of God; He called Paul as Christ. But Paul said he was an apostle "by the will of God." He did not believe the Lord Jesus Christ and God are one. In Paul's letters, God, Christ and the Holy Spirit are always separate. He believed that God is God, and Christ is Christ, that God is higher than Christ, and that the heavenly Father is the greatest. So, Paul believed in the God in heaven, not in the incarnate Christ. Paul had no knowledge of the Lord Jesus. So, it's no wonder that he never exalted the Lord Jesus Christ as God, that he never exalted or testified the words of Jesus Christ were God's words, and that he never asked people to magnify Lord Jesus in their heart. Viewed in this way, did Paul really believe in Christ? Was he following Christ, or testifying Christ? No! In that case, the nature of Paul's such doings was grave. According to the words of the apostle John, "… Every spirit that confesses that Jesus Christ is come in the flesh is of God: And every spirit that confesses not that Jesus Christ is come in the flesh is not of God: and this is that spirit of antichrist…." (1 John 4:2-3) Those who do not believe that God becomes incarnate are antichrists. Paul only believed in the God in heaven, but he didn't truly believe in Christ. That means that he was a non-believer in the work of Jesus Christ! Waving the flag of "an apostle of Jesus Christ by the will of God," Paul exalted and upraised himself in all aspects, always attempting to stand equal with the Lord Jesus Christ. This is sufficient proof of Paul's wild ambition. He had not the slightest obedience or reverence to the Lord Jesus. His nature as a hater of truth and resister of God didn't change at all. This is even more proof that he never truly repented.
In all his years of preaching, Paul never preached or testified of the words of the Lord Jesus, and he never fellowshipped with the churches about the truth the Lord Jesus expressed. We really wonder how many of the words of the Lord Jesus were in Paul's heart. Based on that, we can be certain that Paul wasn't a man who pursued the truth, because he didn't put experiencing the words of the Lord Jesus first. He didn't practice those words, but relied on gifts, man's actions and deeds, man's capabilities and knowledge, to spread the gospel. How could he be one who pursues the truth? No wonder he had no knowledge of, no true love for, and no true obedience to Jesus. After many years of working, his old nature remained unchanged. Instead, he became more arrogant and mercenary. He worked and suffered to make people emulate and worship him, and to build capital to engage in dealings with God. It's just like what Paul himself said, "I have fought a good fight, I have finished my course, I have kept the faith: From now on there is laid up for me a crown of righteousness…." (2 Timothy 4:7-8) Those words completely reveal what Paul hoped to gain from his years of work. He just wanted rewards, and a crown. Paul never pursued the truth or transformation in his disposition. The goals he pursued and his satanic nature never altered. His path was exactly the path of the Pharisees. These are all sufficient to prove that Paul never truly repented. The Lord Jesus called Paul to give him a chance to repent, and used him to spread the gospel. The Lord Jesus conquered Paul who had a devilish nature. This shows us His almightiness, and shows us that God can put any man into service for His work.
from the movie script "Stinging Memories"
Chat With Us!
If you want to go deeper into Bible study and learn the news of the Lord's return, you're welcome to contact us at any time.