A kind of flower, known as Yimi flower, is in full bloom, creating a beautiful sight in the vast desert; each Yimi flower has four petals in different colors: red, yellow, white and blue. However, very few people knew how many hardships it has undergone before it blooms.
In general, the more developed the roots of plants are, the better these plants can survive in the arid desert. However, Yimi flower only has one root. In order to draw sufficient moisture and nourishment from the soil, it can only send its roots deeper into the soil. The process takes at least five years. During this period, it has to endure the loneliness, the burning sun and strong wind, and will often sway in the wind and thus be covered with wounds and bruises. Then, after some time, usually on a bright sunny day, it blooms silently, fulfills its mission as a flower and lives out its values.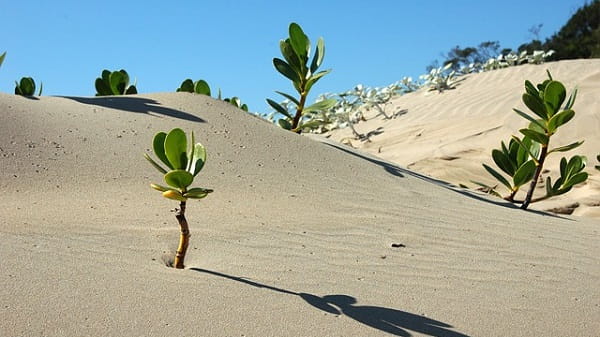 It's hard to develop a great life force in a comfortable environment. Actually, what lies behind the hardships contains God's will.
The Book of Proverbs from the Bible has this to say: "The fining pot is for silver, and the furnace for gold: but the LORD tries the hearts" (Proverbs 17:3).
Moses alone walked into the wilderness, where people thought none could survive, and lived there for forty years by relying on God. Hardships made him learn how to depend on God in all things and allowed his faith in God to become stronger and stronger, so he could walk out of the wild to accept what God entrusted to him. Later, even when he was confronted with the perils—in front of him was the Red Sea, and behind him were the Egyptian soldiers after him, he was quite fearless, and led the Israelites out of Egypt by relying on God, and accomplished the job that God had entrusted him with.
If you are in a spot, do not complain, sorrow or evade it. For the blossom of our life requires a process, during this process we must endure hardships in the process, which is like the nourishment that we need to absorb. Just like Yimi flower, which will have to be frequently hit by sandstorms in the desert before it is in full bloom tenaciously. In our ordinary lives, whatever pressure, troubles or difficulties we may face, it is permitted by God and contains His good intentions. God hopes we can learn how to pray to Him and rely on Him in adversity. Only if we obey God's leading and the word of God, will He get us through difficulties. God will also lead us to grow in adversity just as He led Moses, until our humanity becomes mature and we become strong. One day, we can bear witness to God's deeds and repay the grace of His salvation. Then, we will be able to live a life of value and perform our duty of a created being.
Maybe you also like to read: In God's Words, I Saw Through Fame and Laid Down Grudge
Peace be with you all! Dear brothers and sisters, if you have any understanding or enlightenment from God, you're welcome to share with us.
1. Via the online chat window at the bottom right corner of the screen.
2. Send an email to [email protected].
We sincerely hope we'll grow spiritually through sharing with each other.