Be careful for nothing; but in every thing by prayer and supplication with thanksgiving let your requests be made known to God.
– Philippians 4:6
Thought on Today's Verse:
Prayer is one of the ways in which we connect with God. If we do all things through prayer, we will see God's leadership.
Prayer is not a ceremony. If we don't have a heart-to-heart prayer with God, He will not listen.
We should believe in the power of prayer and have true faith in God. The Bible said, "And when he was entered into a ship, his disciples followed him. And, behold, there arose a great tempest in the sea, so that the ship was covered with the waves: but he was asleep. And his disciples came to him, and awoke him, saying, Lord, save us: we perish. And he said to them, Why are you fearful, O you of little faith? Then he arose, and rebuked the winds and the sea; and there was a great calm" (Mat 8:23-26). From this we can see that God is almighty, all things and events are in His hands. But many times, because our little faith in God, though we pray to God and say that we will rely on Him, we are full of misgivings in our hearts and cannot truly entrust everything to God. I once read a passage: "When someone encounters an especially thorny difficulty, when they have no one to turn to, when they feel especially helpless, they trust in God as their only hope. What are their prayers like? What is their state of mind? Is it sincere? Do they have any mixed purpose at that time? When you trust God as though He were the last straw that you clutch onto to save your life, when you hope God will help you, only then is your heart sincere. Though you may not have said much, your heart has already stirred. That is, you give your true heart, your sincere heart to God, and God listens. When God listens, He sees your difficulties, and He guides you, enlightens you and helps you."
What God wants are our true hearts. When we treat God as our only reliance and feel we can't do anything without God, and at this time we pray to God, God will listen.
• Extended Reading:
The Lord's Burden Is Light, Then Why Is My Life So Tiring?
Relying on God, Our Life Will Be Easy
---
Today's Verse Illustrated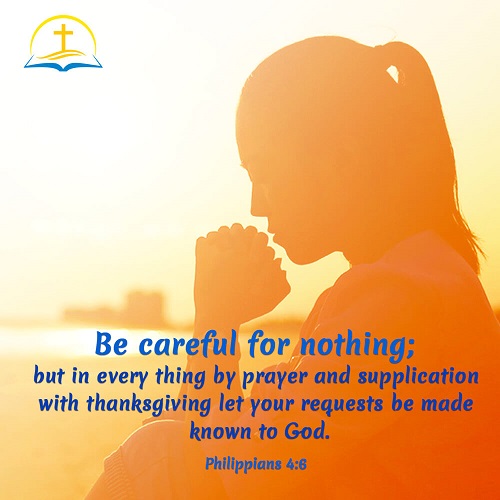 ---
• We welcome you to use our Bible Verse of the Day to enrich your spiritual life.
Chat With Us!
If you want to go deeper into Bible study and learn the news of the Lord's return, you're welcome to contact us at any time.