By Jianneng, Malaysia
I'm 23 years old now and live in Malaysia. And I am in the final year of college. As a college student in the 21st century, I should have had a rich and colorful life. Conversely, I liked staying at home very much, nor did I feel bored. That was because I had fallen in love with video games since my ninth year. At that time, in my aunt's home, I saw my cousin playing on a handheld game console. So curious was I that I asked her to teach me how to play it. Then I controlled the monster in the game awkwardly, thinking it pretty novel and funny. So I hoped to get such a video game as well. After that, I pestered my parents for it, yet they refused me. One day, my aunt asked me my wish and I told her I wanted a game console. Then I got my wish, which made me feel delighted. Thenceforth, I played games on the game console almost every day, which had become my hobby. Meantime, it became my close friend.
From then on, I usually played games sitting on the chair with my game console in hands. Upon seeing me playing games, my mother would ask me to stop. However, being deaf to her words, I still kept playing it absorbedly. Then she yelled at me angrily, "Enough with your games!" Hearing it, I instantly sat on the floor, and drew myself together in a crouch to continue playing. In doing so, I thought my mother wouldn't see my game console. Unexpectedly, she snatched the game console out of my hands, and then locked it in the cupboard to forbid my playing games. Seeing my mother confiscate my game console, I begged her to allow me to play for a bit, yet she ignored me. Later, I asked her for the video game frequently till she got angry. Because of fearing her scolding me, I dared not to pester her. Since then she only permitted me to play for a limited time occasionally. I couldn't even play for a while longer. Until one day, the lock of the cupboard was broken, so that she had to hide the game console in clothes or other places. However, I could find it anywhere she hid it, and then played it secretly in her absence. Not knowing what to do with me, she had to let me do as I pleased.
At the age of eleven, my classmate told me that computer games were more interesting than console games. After playing PC games for a while in my friend's home, I found that the graphics and content of the computer game were more advanced than those on the game consoles, and computer games were more novel. Later on, I usually went to my friend's home to play computer games. And so I got mad on them. At that time, I would play computer games unceasingly unless my mother scolded me. During school vacations, seeing that I only played games on computer every day, my parents asked me to offer a help in my auntie's bakery. I didn't obey them, and yet my mother forcefully demanded me to. Then I argued with her very angrily. Seeing this, my father, who didn't usually discipline me, thought I crossed the line and shouted at me, "If you do nothing but play on the computer, I will throw it away!" Never had I seen him so angry, and I was too afraid to say any words and then went upstairs to bed. Later, in case he threw away the computer, I had to obey my parents. In the daytime, I helped out in my auntie's bakery, while I would play games as soon as I got home at night. My parents had no way out, so that they didn't scold me anymore.
Later, I contacted my classmates online and got acquainted with many new friends. We often played those games that include an upgrade progression. In order to speed up my progress in the games and avoid falling behind others, I would hurry up and eat faster and bathe faster than usual after returning from school, so that I could save more time for playing games. During that time, I often played games till the dead of night and had no desire to sleep. When attending classes the next day, because of feeling very low, I nodded on the desk while the teacher wasn't looking. Then the teacher noticed me and repeatedly warned me that if I did it again he would hand me over to the teacher in charge of discipline, and call my parents. However, I made light of his warning, for my classmates all were like me. As a result, my teacher didn't know what to do with us. Gradually, at school, I didn't concentrate on study but only talked with my classmates about games every day. Then I would make an appointment with them to play games after school. Except for computer games, we had no other matters to talk about. What's more, when going out with my parents, I just went through the motions. All I thought about was to get home early and to play games. Apart from playing games, I never thought of other things. My parents knew that I played games so crazily, yet they couldn't handle me. Thus they had to follow my desire and thought it was enough as long as I could attend school normally.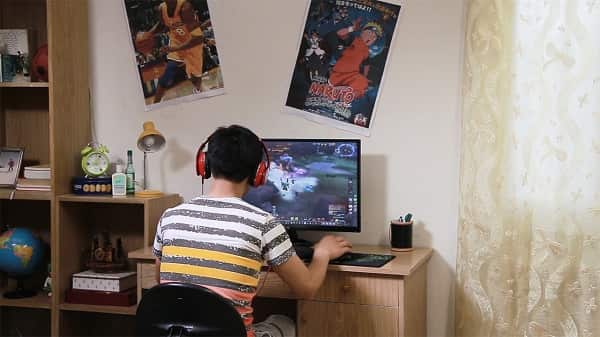 In this way, I still was addicted to playing online games when I was at university. With online games getting more and more advanced, fees are charged for many funny games, and these games were often more expensive than the level-based games and shooting games. Thereupon, when having breakfast or lunch at school, I would buy the cheapest meal, and on occasion I only ate some bread. Thus I could save money to pay for online games. During those days, I felt so happy and thought what I did was worthwhile as long as I could play games.
Because of playing games for a long time, I often felt unwell. Especially when I threw myself into them, my face would get closer to the screen, with my shoulders, back and neck gradually hunched up. Then I would sit in the same position for hours. Once I finished playing games and stood up, I would feel dizzy and sick; my eyes would hurt so much; my back and neck would ache. Also, I would feel my blood could hardly circulate and I would be muddle-headed, with the result that I would almost fall down when walking. Only then did I feel remorse for playing games so long. And I made a resolution not to repeat it. However, after having a meal and taking a shower, I got my second wind so that I couldn't help sitting down to continue playing. In those days, once I started playing games after getting home, I would be unable to stop it. Many times I hastily did something my parents instructed me, and then hurried back to the computer to continue games. From time to time, before going out, my parents enjoined me to put away all the outside clothes if it rained. Then I answered perfunctorily. But once I sat in front of the computer, I would remember nothing. Not until they came back did I realize that I had forgotten to put away the clothes. On one occasion, I forgot to do this, the clothes all wet. My parents scolded me angrily, and I also felt guilty in my heart: How could I forget it? However, after my parents' reproaches, I still repeated the same error. They didn't know what to do with me.
During my first year of university, I seldom reviewed my lessons because of playing games. Consequently, I failed in two subjects, one of which was my main subject. So I had to repeat a year. Sometimes I settled down to think: What did I gain from these games? It was just temporary pleasure. When I didn't play games, I would long to play for a whole day joyfully, yet my mind would be more vacant after playing games. Other than playing games, however, I had nothing else to do. I couldn't help myself even though I didn't want to dawdle the hours away playing games.
Just when I was unable to extricate myself, in August 2017, I met a sister on Facebook who believed in the Lord. She talked with me about belief in God and introduced other sisters to me. When we had meetings, she bore witness to me about God's three stages of work, "Stage one is the work of the Age of Law; stage two is the work of the Age of Grace and stage three is the work of the Age of Kingdom. Every stage of work is done by God to save mankind. God has completed the previous two stages of work. Now is the Age of Kingdom, and Almighty God has been incarnated on earth and expressed His words, judging and purifying our sins and resolving our corrupt disposition and all the emptiness and suffering. At last, we will be led by God into a beautiful destination and gain the eternal life." I had never heard of such fellowship. I was very willing to listen and meantime, I would like to seek and investigate Almighty God's work to know more about the work of God. Later, through many times of fellowship with the sister, I understood that Almighty God is the Lord Jesus returned, God's appearance and is also the incarnate God. The words expressed by Almighty God are all truths that save mankind. And they can resolve all of mankind's problems and pain. So I accepted Almighty God's end-time work.
Chat With Us!
Now disasters occur frequently. How should we rely on God and worship Him to strengthen our faith? We invite you to join our online meeting group to seek the way together.