If you abide in me, and my words abide in you, you shall ask what you will, and it shall be done to you.
– John 15:7
Thoughts on Today's Bible Verse:
In this verse, the Lord Jesus tells us that only those who live within God's words live in Christ. Such people can gain God's praise. God's words are the truth and can supply us with life. If we can listen to and obey His words, and allow His words to become the basis for our survival and the guide to our life, then His words are within us. Those who have God's words in their heart do not rebel against or resist Christ but only fear and obey Him. They can take Jesus' heart as their heart and can implement God's will and complete His commission. Just as Peter, who spent his life seeking to obey and love God. He focused on seeking to understand God's will within Jesus' words, and carried out God's will without care for what he gained or lost, and could take God's commission as his duty and share in His thoughts and concerns. In the end, Peter was nailed upside down on the cross for His sake, and was able to love God to the highest level, and obey God to the death, and only such people truly live in Christ. This verse tells us the right path we should take in our belief in God. That is, we should pursue the truth, practice God's words and become compatible with Christ, which is really important. Only in this way can we inherit God's promises to us. Just as God says, "Eating and drinking the word of God gives you a greater knowledge of God, only after which can you obey God. Only if you know God can you love Him, and the attainment of this aim is the only aim man should have in his belief in God. If, in your belief in God, you always try to behold signs and wonders, then the viewpoint of this belief in God is wrong. Belief in God is principally the acceptance of the word of God as the reality of life. Only putting into practice the words of God from His mouth and carrying them out within yourself is the attainment of the aim of God. In believing in God, man should pursue being made perfect by God, being able to submit to God, and the complete obedience to God. If you can obey God without complaint, be mindful of God's desires, achieve the stature of Peter, and possess the style of Peter spoken of by God, then that will be when you have achieved success in belief in God, and it will signify that you have been gained by God."
---
Today's Bible Verse Illustrated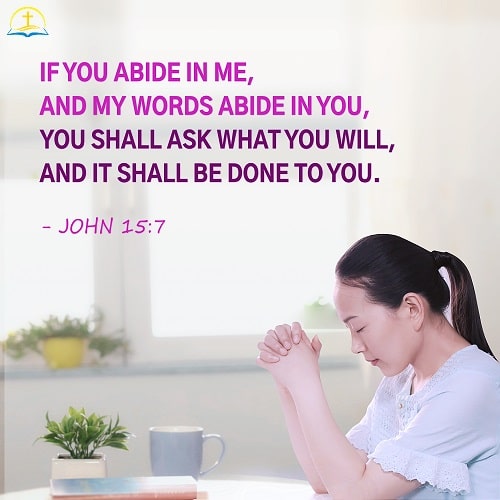 ---
• We welcome you to use our Bible Verse of the Day to enrich your spiritual life.
Chat With Us!
Now disasters occur frequently. How should we rely on God and worship Him to strengthen our faith? We invite you to join our online meeting group to seek the way together.