John answered, saying to them all, I indeed baptize you with water; but one mightier than I comes, the lace of whose shoes I am not worthy to unloose: he shall baptize you with the Holy Ghost and with fire:
– Luke 3:16
Thoughts on Today's Verse:
John the Baptist was the one who paved the way for the Lord Jesus. He baptized people of that time and preached the gospel of the kingdom of the heaven. But he only baptized them with water, he couldn't do the work Jesus was going to do. Only the Lord Jesus could do the work of redeeming mankind through crucifixion.
I saw such a passage in a spiritual book, "The work done by John and that done by Jesus were not alike and of different natures. It is this that should determine whether or not he is God. The work of Jesus was to begin, continue, conclude, and accomplish. Each of these steps was carried out by Jesus, whereas the work of John was no more than that of a beginning. In the beginning, Jesus spread the gospel and preached the way of repentance, then went on to baptize man, heal sickness, and cast out demons. In the end, He redeemed mankind from sin and completed His work for the entire age. He preached to man and spread the gospel of the kingdom of heaven in all places. This was the same with John, with the difference being that Jesus ushered in a new age and brought the Age of Grace to man. From His mouth came the word on what man should practice and the way that man should follow in the Age of Grace, and in the end, He finished the work of redemption. Such work could never be carried out by John. And so, it was Jesus who did the work of God Himself, and it is He who is God Himself and directly represents God." It can be seen that to distinguish God's work from man's work, the key is whether it can bring to us the way of life rather than how long one has worked.
---
Today's Verse Illustrated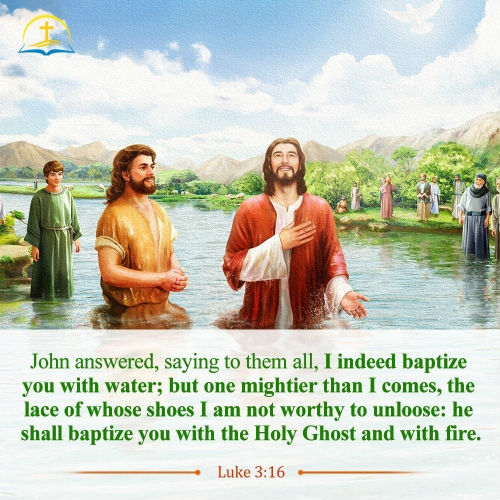 ---
• We welcome you to use our Bible Verse of the Day to enrich your spiritual life.
Chat With Us!
Now disasters occur frequently. How should we rely on God and worship Him to strengthen our faith? We invite you to join our online meeting group to seek the way together.