But lay up for yourselves treasures in heaven, where neither moth nor rust does corrupt, and where thieves do not break through nor steal.
– Matthew 6:10
Thoughts on Today's Verse:
The Lord Jesus teaches us not to rack our brains to lay up treasures on earth, but to equip ourselves with the words of God, pursue the truth, obey and love God, show consideration for God's will and satisfy His demands. This is to lay up treasures in heaven, and also to prepare good deeds for our outcome and final destination. When the great disaster comes, no matter how much treasures on earth we have, they cannot save us from the disaster. Only if we prepare enough good deeds can we receive God's protection during the disaster and be led by God into a beautiful destination. Then how should we prepare a sufficiency of good deeds—laying up treasures in heaven? For example, guiding brothers and sisters to read God's word and understand the truth, spreading the gospel and bearing testimony for God, helping brothers and sisters who dedicate themselves to working for the Lord Jesus, hosting those who are homeless because of the CCP's persecution. These are all good deeds that are after God's heart. Just as God says, "I hope that you prepare a sufficiency of good deeds for your own destination. Then will I be satisfied; otherwise, none of you shall escape the disaster that befalls you. The disaster originates with Me and is of course orchestrated by Me. If you cannot appear as good in My eyes, then you will not escape suffering the disaster."
Read more on our Love One Another page, or click on the related articles below.
• "Love Your Neighbor as Yourself" Necessitates Principles
• The Four Basic Aspects Christians Should Enter Into to Live Out Normal Humanity
---
Today's Verse Illustrated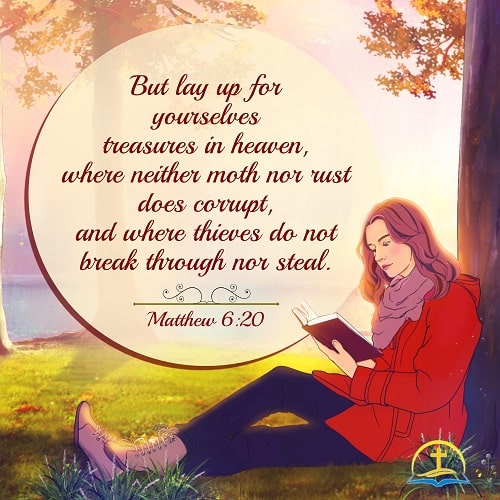 ---
• We welcome you to use our Bible Verse of the Day to enrich your spiritual life.
Chat With Us!
Now disasters occur frequently. How should we rely on God and worship Him to strengthen our faith? We invite you to join our online meeting group to seek the way together.