But let your communication be, Yes, yes; No, no: for whatever is more than these comes of evil.
– Matthew 5:37
Thought on Today's Verse:
The Lord Jesus tells us: "But let your communication be, Yes, yes; No, no: for whatever is more than these comes of evil" (Mat 5:37). From His words, we know that He loathes those who lie to others. But in real life, we cannot help lying most of the time. Sometimes, we cheat others for protecting our own vain dignity or for our interests. When interacting with brothers and sisters, we don't want to own up when we have made mistakes because we are afraid that they will look down on us once we admit. These various behaviors make us know that we are still very far away from Jesus' teachings. Then how should we settle the problem of lying?
It is recorded in Proverbs 12:22, "Lying lips are abomination to the LORD: but they that deal truly are his delight." If we want to be honest without lies and deception, we must make strict demands of ourselves to examine our intentions when we say anything. Once we notice that we have wrong intentions or pretensions when we speak, we should give up and not speak according to our wrong intentions. In addition, when we have lied to or hurt others, we should have the guts to admit our mistakes and correct them according to God's demands.
It is recorded in Job 33:3, "My words shall be of the uprightness of my heart: and my lips shall utter knowledge clearly." We shall frankly tell our difficulties to brothers and sisters without pretensions or concealment, and open our heart to them and confide in them, then they can help us with love. In this way, everyone can support each other and provide to each other and we will feel released.
• Extended Reading:
Four Principles For Christians to Be Honest
---
Today's Verse Illustrated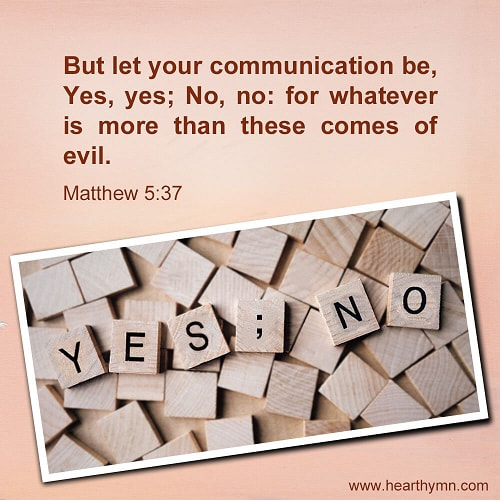 ---
• We welcome you to use our Bible Verse of the Day to enrich your spiritual life.
Chat With Us!
Now disasters occur frequently. How should we rely on God and worship Him to strengthen our faith? We invite you to join our online meeting group to seek the way together.