He Who Loves God Love His Brother Also - 1 John 4:21
Today's Verse
And this commandment have we from him, That he who loves God love his brother also.
Thoughts on Today's Bible Verse:
This verse tells us that those who love God will love their brothers and sisters. Loving one another is God's demand of us, and is His command which we ought to obey.
However, most of the time, we cannot get along with others, but be close to this one not that one. We love brothers and sisters who benefit us, but hate rather than love those who offend us or harm our interests. This showed that our love of brothers and sisters is unprincipled. Our interaction with others is based on our own personal preferences. Therefore, we are not able to love them even if we want to, and cannot achieve mutual love. Then how can we love one another? God says, "If you don't have a proper relationship with God, no matter what you do to maintain your relationships with other people, no matter how hard you work or how much energy you exert, it will still belong to a human philosophy of life. You are maintaining your position among people through a human perspective and a human philosophy so that they will praise you. You do not establish proper relationships with people according to the word of God. If you don't focus on your relationships with people but maintain a proper relationship with God, if you are willing to give your heart to God and learn to obey Him, very naturally, your relationships with all people will become proper. This way, these relationships aren't established on the flesh, but on the foundation of God's love. There are almost no interactions based on the flesh, but in the spirit there is fellowship as well as love, comfort, and provision for one another. This is all done on the foundation of a heart that satisfies God. These relationships aren't maintained by relying on a human philosophy of life, but they are formed very naturally through the burden for God. They don't require human effort—they are practiced through the principles of the word of God." From God's words, we can see that when we have a proper relationship with God, when we do not establish our relationships with others on the flesh but on the foundation of God's love, we can truly love one another and live out the reality of loving God.
Today's Bible Verse Illustrated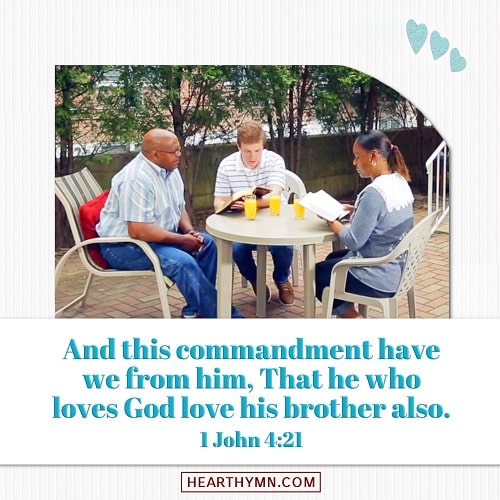 • We welcome you to use our Bible Verse of the Day to enrich your spiritual life.
Join Online Meeting Group
Did you know? God is using all sorts of ways to tell you the good news that the Lord has returned. Are you ready to welcome the Lord's coming?
Leave a Reply