Bible Verses About Mothers: Learn to Love Your Mother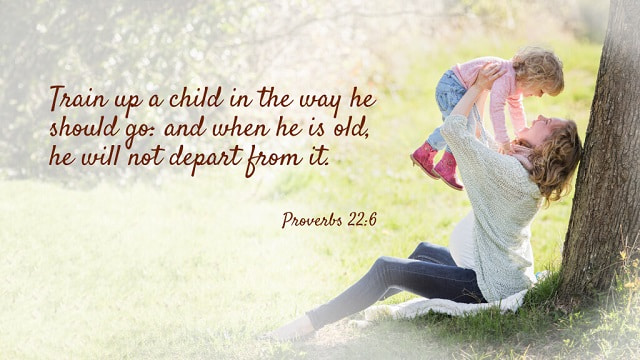 How should a son or daughter get on with their mother? How should we love our mother? These selected verses about Mothers guide you to treat your mother according to the biblical teachings so that you can get along in harmony with your mother and love her more.
Recommended for You:
• The Years When I Rushed About for the Sake of My Daughter
• How I Become Friends With Daughters?
Respect Our Parents
Proverbs 1:8-9
My son, hear the instruction of your father, and forsake not the law of your mother: For they shall be an ornament of grace to your head, and chains about your neck.
Matthew 15:4-6
For God commanded, saying, Honor your father and mother: and, He that curses father or mother, let him die the death. But you say, Whoever shall say to his father or his mother, It is a gift, by whatever you might be profited by me; And honor not his father or his mother, he shall be free. Thus have you made the commandment of God of none effect by your tradition.
Proverbs 23:22-24
Listen to your father that begat you, and despise not your mother when she is old. Buy the truth, and sell it not; also wisdom, and instruction, and understanding. The father of the righteous shall greatly rejoice: and he that begets a wise child shall have joy of him.
Proverbs 19:26-27
He that wastes his father, and chases away his mother, is a son that causes shame, and brings reproach. Cease, my son, to hear the instruction that causes to err from the words of knowledge.
Proverbs 6:20-22
My son, keep your father's commandment, and forsake not the law of your mother: Bind them continually on your heart, and tie them about your neck.
Ephesians 6:2-3
Honor your father and mother; which is the first commandment with promise; That it may be well with you, and you may live long on the earth.
The Influence a Wife and Mom Have on Us
Colossians 3:19
Husbands, love your wives, and be not bitter against them.
Proverbs 31:10
Who can find a virtuous woman? for her price is far above rubies.
Proverbs 14:1
Every wise woman builds her house: but the foolish plucks it down with her hands.
Proverbs 18:12
Whoever finds a wife finds a good thing, and obtains favor of the LORD.
Proverbs 22:6
Train up a child in the way he should go: and when he is old, he will not depart from it.
Truth Quotes
1. A New Life Is Born Out of the Creator's Plans
"Which details of the first juncture—the place of one's birth, one's family, one's gender, one's physical appearance, the time of one's birth—is a person able to choose? Obviously, one's birth is a passive event: One is born involuntarily, in a certain place, at a certain time, into a certain family, with a certain physical appearance; one involuntarily becomes a member of a certain household, inherits a certain family tree. One has no choice at this first life juncture, but is born into an environment that is fixed according to the Creator's plans, into a specific family, with a specific gender and appearance, and at a specific time which is intimately linked with the course of a person's life. What can a person do at this critical juncture? All told, one has no choice about any single one of these details concerning one's birth. Were it not for the Creator's predestination and His guidance, a life newly born into this world would not know where to go or where to stay, would have no relations, belong nowhere, have no real home. But because of the Creator's meticulous arrangements, it begins the journey of its life with a place to stay, parents, a place it belongs to, and relatives. Throughout this process, the advent of this new life is determined by the Creator's plans, and everything it will come to possess will be bestowed upon it by the Creator. From a free-floating body with nothing to its name it gradually becomes a flesh-and-blood, visible, tangible human being, one of God's creations, who thinks, breathes, and senses warm and cold, who can participate in all the usual activities of a created being in the material world, and who will undergo all the things that a created human being must experience in life. The predetermination of a person's birth by the Creator means that He will bestow upon that person all things necessary for survival; and that a person is born likewise means that he or she will receive all things necessary for survival from the Creator, that from that point on he or she will live in another form, provided for by the Creator and subject to the Creator's sovereignty."
God created this world and brought man, a living being unto which He bestowed life, into it. Next, man came to have parents and kin, and was no longer alone. Ever since man first laid eyes on this material world, he was destined to exist within the ordination of God. The breath of life from God supports each and every living being throughout growth into adulthood. During this process, no one feels that man is growing up under the care of God; rather, they believe that man is doing so under the loving care of his parents, and that it is his own life instinct that directs his growing up. This is because man knows not who bestowed his life, or from whence it came, much less the way in which the instinct of life creates miracles. He knows only that food is the basis on which his life continues, that perseverance is the source of his existence, and that the beliefs in his mind are the capital upon which his survival depends. Of God's grace and provision, man is utterly oblivious, and thus does he fritter away the life bestowed upon him by God…. Not a single one of this humanity that God cares for day and night takes it upon themselves to worship Him. God only continues to work on man, for whom He holds out no expectations, as He has planned. He does so in the hope that one day, man will awaken from his dream and suddenly realize the value and meaning of life, the price God paid for all that He has given him, and the eager solicitude with which God waits for man to turn back to Him. No one has ever looked into the secrets governing the origin and continuation of man's life. Only God, who understands all of this, silently endures the hurt and the blows that man, who has received everything from God but is not thankful, gives Him. Man takes for granted all that life brings, and, likewise, it is "a matter of course" that God is betrayed by man, forgotten by man, and extorted by man. Could it be that God's plan is truly of such importance? Could it be that man, this living being that came from the hand of God, is truly of such importance? The plan of God is assuredly of importance; however, this living being created by the hand of God exists for the sake of His plan. Therefore, God cannot lay waste to His plan out of hatred for this human race. It is for the sake of His plan and for the breath He exhaled that God endures all torments, not for the flesh of man but for the life of man. He does so in order to take back not the flesh of man but the life He breathed out. This is His plan."
Join Online Meeting Group
Signs of the second coming of the Lord Jesus have appeared. Have you welcomed Him? Click to join us to find the way to welcome the Lord.
Leave a Reply