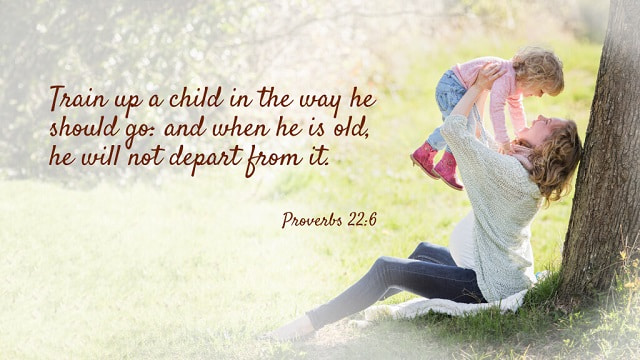 Mother's Day Bible verses – To celebrate Mother's Day, we collect 45 Bible verses for moms to encourage and inspire! In the Bible we can see many women who are wonderful examples of a mother. Enjoy these Bible verses about mother's love!
• We welcome you to use our free resources to know more about Mother's Day.
---
Who can find a virtuous woman? for her price is far above rubies. The heart of her husband does safely trust in her, so that he shall have no need of spoil. She will do him good and not evil all the days of her life. She seeks wool, and flax, and works willingly with her hands. She is like the merchants' ships; she brings her food from afar. She rises also while it is yet night, and gives meat to her household, and a portion to her maidens. She considers a field, and buys it: with the fruit of her hands she plants a vineyard. She girds her loins with strength, and strengthens her arms.
– Proverbs 31:10-17
---
He that wastes his father, and chases away his mother, is a son that causes shame, and brings reproach. Cease, my son, to hear the instruction that causes to err from the words of knowledge.
– Proverbs 19:26-27
---
Honor your father and mother; which is the first commandment with promise; That it may be well with you, and you may live long on the earth.
– Ephesians 6:2-3
---
Train up a child in the way he should go: and when he is old, he will not depart from it.
– Proverbs 22:6
---
Let your fountain be blessed: and rejoice with the wife of your youth.
– Proverbs 5:8
---
Whoever finds a wife finds a good thing, and obtains favor of the LORD.
– Proverbs 18:22
---
See, children are an heritage of the LORD: and the fruit of the womb is his reward.
– Psalm 127:3
---
And Jesus answered and said, Truly I say to you, There is no man that has left house, or brothers, or sisters, or father, or mother, or wife, or children, or lands, for my sake, and the gospel's, But he shall receive an hundred times now in this time, houses, and brothers, and sisters, and mothers, and children, and lands, with persecutions; and in the world to come eternal life.
– Mark 10:29-30
---
For God commanded, saying, Honor your father and mother: and, He that curses father or mother, let him die the death. But you say, Whoever shall say to his father or his mother, It is a gift, by whatever you might be profited by me; And honor not his father or his mother, he shall be free. Thus have you made the commandment of God of none effect by your tradition.
– Matthew 15:4-6
---
Children, obey your parents in the Lord: for this is right.
– Ephesians 6:1
---
Honor your father and your mother: that your days may be long on the land which the LORD your God gives you.
– Exodus 20:12
---
Honor your father and your mother, as the LORD your God has commanded you; that your days may be prolonged, and that it may go well with you, in the land which the LORD your God gives you.
– Deuteronomy 5:16
---
My son, hear the instruction of your father, and forsake not the law of your mother: For they shall be an ornament of grace to your head, and chains about your neck.
– Proverbs 1:8-9
---
My son, keep your father's commandment, and forsake not the law of your mother: Bind them continually on your heart, and tie them about your neck.
– Proverbs 6:20-21
---
Listen to your father that begat you, and despise not your mother when she is old. Buy the truth, and sell it not; also wisdom, and instruction, and understanding. The father of the righteous shall greatly rejoice: and he that begets a wise child shall have joy of him.
– Proverbs 23:22-24
---
And the LORD visited Sarah as he had said, and the LORD did to Sarah as he had spoken. For Sarah conceived, and bore Abraham a son in his old age, at the set time of which God had spoken to him. And Abraham called the name of his son that was born to him, whom Sarah bore to him, Isaac. – Genesis 21:1-3
---
THERE was in the days of Herod, the king of Judaea, a certain priest named Zacharias, of the course of Abia: and his wife was of the daughters of Aaron, and her name was Elisabeth. And they were both righteous before God, walking in all the commandments and ordinances of the Lord blameless.
– Luke 1:5-6
---
And Mary said, My soul does magnify the Lord, And my spirit has rejoiced in God my Savior. For he has regarded the low estate of his handmaiden: for, behold, from now on all generations shall call me blessed.
– Luke 1:46-48
---
Now there stood by the cross of Jesus his mother, and his mother's sister, Mary the wife of Cleophas, and Mary Magdalene. When Jesus therefore saw his mother, and the disciple standing by, whom he loved, he said to his mother, Woman, behold your son! Then said he to the disciple, Behold your mother! And from that hour that disciple took her to his own home.
– John 19:25-27
---
Her children arise up, and call her blessed; her husband also, and he praises her. Many daughters have done virtuously, but you excel them all. Favor is deceitful, and beauty is vain: but a woman that fears the LORD, she shall be praised.
– Proverbs 31:28-30
---
Extended Reading:
• The Years When I Rushed About for the Sake of My Daughter
• How I Become Friends With Daughters?
• Naughty Kids? Effective Way to Solve It
• We welcome you to use our Bible Verses By Topic page to quickly find verses about popular topics.
Peace be with you all! Dear brothers and sisters, if you have any understanding or enlightenment from God, you're welcome to share with us.
1. Via the online chat window at the bottom right corner of the screen.
2. Send an email to [email protected].
We sincerely hope we'll grow spiritually through sharing with each other.