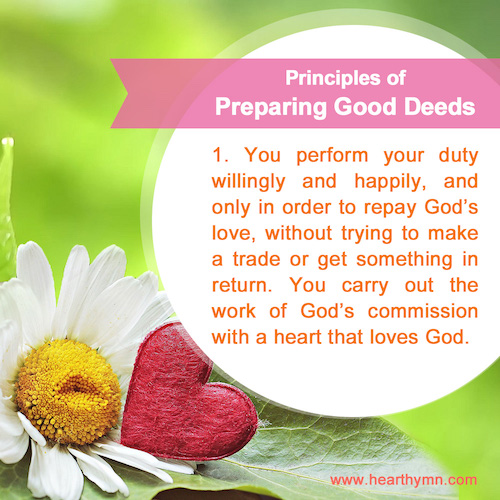 God says, "If you are glad to be a service-doer in the house of God, working diligently and conscientiously in obscurity, always giving and never taking, then I say that you are a loyal saint, for you seek no reward and are simply being an honest man. If you are willing to be candid, if you are willing to give your all, if you are able to sacrifice your life for God and stand witness, if you are honest and think only to please God, and never consider yourself or take for yourself, then I say that such people are those who are nourished by the light and shall live forever in the kingdom." ("Three Admonitions")
From God's word, I know that I should perform my duty willingly and happily, and only in order to repay God's love, without trying to make a trade or get something in return. I carry out the work of God's commission with a heart that loves God.
Recommended:
Principles of Preparing Good Deeds – Number Two
Principles of Preparing Good Deeds – Number Three
Principles of Preparing Good Deeds – Number Four
Chat With Us!
Now, disasters are occurring frequently everywhere. In the Philippines, the pandemic and the famine have not passed yet and powerful Typhoon Molave, Goni and Tropical Storm Atsani have landed. Biblical prophecies of the coming of the Lord have been fulfilled. It stands to reason that the Lord has returned—so why have we yet to welcome His arrival? Will we not be plunged into the great tribulation if this carries on? And just what should we do to welcome the Lord's coming?