Providing for Honest Things - 2 Corinthians 8:2
Today's Verse
Providing for honest things, not only in the sight of the Lord, but also in the sight of men.
Thoughts on Today's Bible Verse:
This verse teaches us: Be just and honorable when doing things. Do not do shameful things. And do things not only in the sight of God, but also in the sight of men. This is a kind of practice of being honest. For example, when we do something wrong, we can say before God. But it won't be easy for us to lay bare ourselves and admit that we are wrong before others. If we want to be an honest person approved by God, we should not only let God know our actions and deeds, but we should also lay ourselves open to others.
There is a passage saying, "To be honest, you must first lay your heart bare, so that everyone can see it, and all that you are thinking, and can see your true face; you must not pretend or package yourself. Only then will people trust you and consider you honest. This is the most fundamental practice of being honest, and it is a precondition. You are always pretending, always feigning holiness, virtuousness, greatness, and loftiness, and do not let people see your corruption and your failings. You present a false image to people, so that they believe you are upstanding, mighty, self-denying, impartial, and selfless. Don't pretend, don't package yourself; instead, lay yourself bare, lay your heart bare for others to see. If you can lay your heart bare for others to see, and lay bare all that you think and plan to do in your heart—regardless of whether it is positive or negative—then are you not being honest? If you are able to lay yourself bare for others to see, God will also see you, and say: 'You have laid yourself bare for others to see, and so before Me you are surely honest, too.' If you only lay yourself bare to God out of view of others, and always pretend to be mighty and virtuous or just and selfless before them, then what will God think? And what will God say? God will say: 'You are genuinely crafty and hypocritical, you are petty, and you are not honest.' God will condemn you thus. If you wish to be honest, then regardless of what you do before God or people, you are able to reveal your heart to others."
Prayer:
O God, in the past, I hadn't reached your demands when doing things. I just confessed my sins to You on the surface. I never thought about laying myself bare to others. I have been thinking acting this way can maintain my relationship with You. Others will not know my mistakes, so I can maintain my image in people's hearts. Now I understand an aboveboard and straightforward person can do things before God, as well as lay himself open to others. I'm willing to practice in this direction and be an honest person.
Today's Bible Verse Illustrated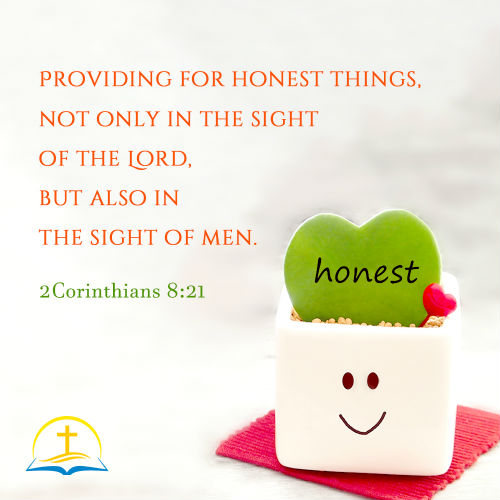 • We welcome you to use our Bible Verse of the Day to enrich your spiritual life.
Join Online Meeting Group
Did you know? God is using all sorts of ways to tell you the good news that the Lord has returned. Are you ready to welcome the Lord's coming?
Leave a Reply