Job Is Once More Blessed by God, and Is Never Again Accused by Satan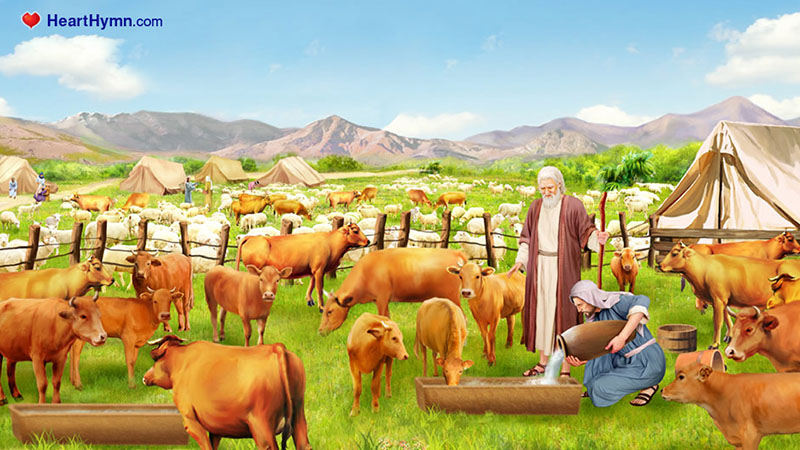 Among the utterances of Jehovah God are the words that "you have not spoken of me the thing that is right, as my servant Job has." What was it that Job had said? It was what we talked about previously, as well as the many pages of words in the Book of Job that Job is recorded as having spoken. In all of these many pages of words, Job never once has any complaints or misgivings about God. He simply awaits the outcome. It is this waiting which is his attitude of obedience, as a result of which, and as a result of the words he said to God, Job was accepted by God. When he endured trials and suffered hardship, God was by his side, and although his hardship was not lessened by God's presence, God saw what He wished to see, and heard what He wished to hear. Every one of Job's actions and words reached the eyes and ears of God; God heard, and He saw—and this is fact. Job's knowledge of God, and his thoughts about God in his heart at that time, during that period, were not actually as specific as those of the people of today, but in the context of the time, God still recognized all that he had said, because his behavior and the thoughts in his heart, and what he had expressed and revealed, were sufficient for His requirements. During the time that Job was subjected to trials, that which he thought in his heart and resolved to do showed God an outcome, one that was satisfactory to God, and afterward God took away Job's trials, Job emerged from his troubles, and his trials were gone and never again befell him. Because Job had already been subjected to trials, and had stood firm during these trials, and completely triumphed over Satan, God gave him the blessings that he so rightfully deserved. As recorded in Job 42:10, 12, Job was blessed once again, and was blessed with more than the first instance. At this time Satan had withdrawn, and no longer said or did anything, and from then onward Job was no longer interfered with or attacked by Satan, and Satan no longer made accusations against God's blessings of Job.
From God's Work, God's Disposition, and God Himself II
Read more: God's Work, God's Disposition, and God Himself (II)
Chat With Us!
If you want to go deeper into Bible study and learn the news of the Lord's return, you're welcome to contact us at any time.