Rejoice in the Lord Always. A Commentary on Philippians 4:4
Today's Verse
Rejoice in the Lord always: and again I say, Rejoice.
Thoughts on Today's Verse:
Reading this verse, I pondered in my heart: God asks us to rejoice ever more, but I don't have peace and joy because I often have troubles and feel miserable for the failures of work. How can I have peace and joy? Later, I read some of God's words, "'Rejoice ever more. Pray without ceasing. In every thing give thanks.' … These words are practical, and in the process by which people's lives grow, they are practices that are indispensable, and the most practical. They are the states that people should possess, the path to practice that they should possess, and they are an attitude of obedience to God. Above all they are an attitude, and when you have this attitude you are blessed by God and accepted by God, and at the same time the states within you—the negative, depraved, and rebellious states–these negative things will become fewer and fewer, and the states will take a better and better direction." From God's words I understood that rejoicing ever more represents an attitude of obedience. When we obey God's sovereignty and arrangements, we will feel that the environments, people, things and matters God carefully arranges are for our growing up in life, and feel that God is full of love for us. Conversely, if we are dissatisfied with the environments God arranges and cannot see His love, then we won't have peace and joy. Instead, our hearts will be filled with pain and grievances, and even complaint about God. And so, obeying God's sovereignty and arrangements is the precondition for rejoicing ever more, which is a path by which we obey God. Amen!
Read More:
• After I Obeyed God's Arrangement in My Work …
• How to Shake off Worries and Find a Happy Life
• How Can Christians Not Become Weak in the Face of Unfortunate Things?
Today's Verse Illustrated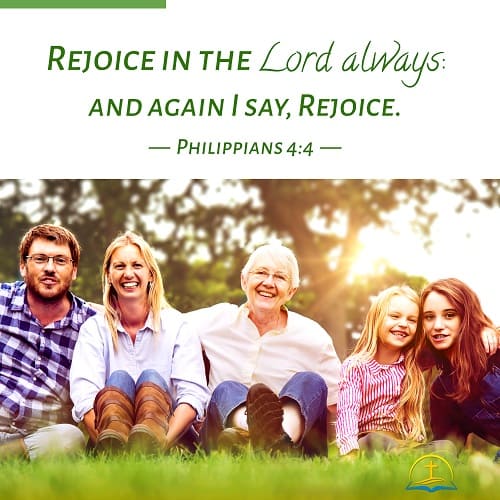 • Welcome to use our Bible Verse of the Day to enrich your spiritual life.
Join Online Meeting Group
Signs of the second coming of the Lord Jesus have appeared. Have you welcomed Him? Click to join us to find the way to welcome the Lord.
Leave a Reply