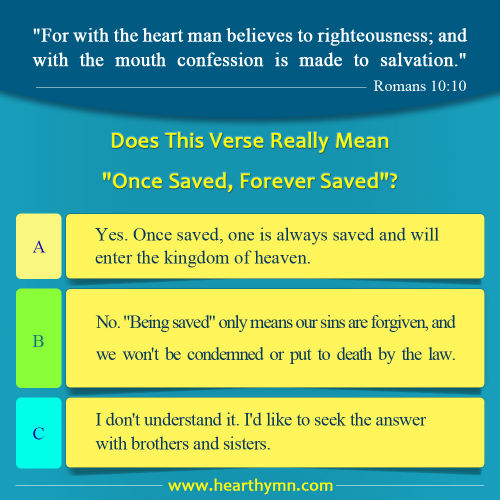 Question: For with the heart man believes to righteousness; and with the mouth confession is made to salvation. (Romans 10:10) Does This Verse Really Mean "Once Saved, Forever Saved"?
A. Yes. Once saved, one is always saved and will enter the kingdom of heaven.
B. No. "Being saved" only means our sins are forgiven, and we won't be condemned or put to death by the law.
C. I don't understand it. I'd like to seek the answer with brothers and sisters.
You can look for the answer as you read: Is the Word "Once Saved, Always Saved" Tenable?
---
• See our beautiful collection of Inspirational Images.
Chat With Us!
Now disasters occur frequently. How should we rely on God and worship Him to strengthen our faith? We invite you to join our online meeting group to seek the way together.