By Zhang Yan
In John chapter 21 verses 16-17 it says, "He said to him again the second time, Simon, son of Jonas, love you me? He said to him, Yes, Lord; you know that I love you. He said to him, Feed my sheep. He said to him the third time, Simon, son of Jonas, love you me? Peter was grieved because he said to him the third time, Love you me? And he said to him, Lord, you know all things; you know that I love you. Jesus said to him, Feed my sheep."
Whenever I read these two verses, I would always ponder: There were twelve disciples of the Lord Jesus Christ. But why did He entrust Peter with the heavy responsibility of shepherding the churches?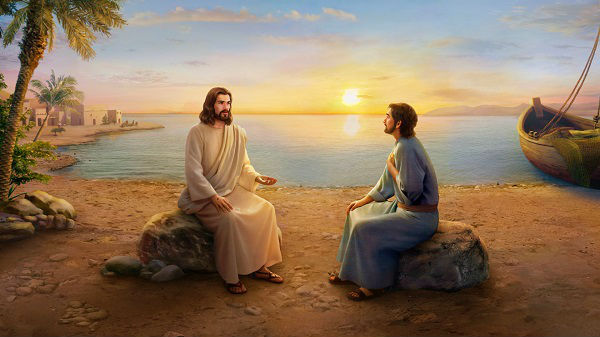 Through constantly pray-reading the two passages and thinking of how Peter behaved when he followed the Lord during His work, I gradually understood why. It was because, while following Jesus, what Peter pursued was a change in his own disposition, not fame and status. So, regardless of whether it was persecution and tribulation, or lack in his life, he always obeyed and never complained about God. Though before the Lord's crucifixion Peter once denied Him three times, this was merely his weakness. Peter's essence was good, obedience to God, and love for God. The Lord Jesus saw that he was someone who sought the truth and loved God, so He asked Peter to shepherd His lambs. And the reason why the Lord asked Peter three times "Love you me?" was in hope that after Peter accepted what God had entrusted to him, whatever he encountered, he could seek the truth, seek to understand God's will, and often reflect on himself to see whether or not he was considerate of God's will and whether he truly loved and was really satisfying God. The Lord's three times of questioning Peter showed that He placed great hope on Peter.
The Lord's words also motivated me so that I often examined myself: Am I a person that loves God? And, how exactly should I love Him? I thought: If I can, frequently encouraged by these words, pursue loving the Lord, then my relationship with Him will get more and more intimate and I will pine for Him more often in my heart. Besides, when faced with various environments and refinements, I will therefore reflect upon myself and not do anything that offends God. And, deep down, I will think more of how to satisfy God's will and comfort His heart. God created us in His image and breathed into us His breath of life, and thus He regards us as His own flesh and blood as well as companions. No matter how many years He has worked among man, His essence will never change, and neither will His intention. Since He made such requirements of Peter, He requires that of us as well. In the end God wants to obtain us and make us people who know and love Him. Only then can we truly undertake that with which God has entrusted us, fulfill our duty as a created being, manifest and glorify God on the earth, and become masters of all things. As such, God's original intention in creating man will have been restored.
In pondering this, I deeply appreciated that God's intention contained within His question to Peter was extremely profound in its significance. And these words will become the guide and the compass for my future path of believing in God, leading me to go on in the way ahead.
You may be interested in reading more on our Bible Study Topics page about Bible Study on Peter, or in the articles below.
• 4 Concrete Ways on How to Love God
• Why Did Jesus Christ Only Give Peter the Keys of the Kingdom of Heaven?
• Why Only Peter Confesses Jesus as the Christ
Chat With Us!
Frequent disasters occur in the last days. Do you want to know how to get rid of sin and enter the kingdom of God? Please join our online gathering to find the way.