Trust in the Lord With All Your Heart - Proverbs 3:5
Today's Verse
Trust in the LORD with all your heart; and lean not to your own understanding.
Thought on Today's Verse:
Most of the time, we deal with everything in real life by ourselves, and believe that we can solve all the problems by relying on our own understanding. Therefore, we always do this or that depending on our own strength. At last, some people succeed but wear themselves out; some fail and live in agony.
It is said in the Bible, "Behold, I lay in Sion a stumbling stone and rock of offense: and whoever believes on him shall not be ashamed" (Romans 9:33). Mankind is too insignificant before God. We cannot do many things by ourselves. Only God is the source of wisdom. All our intelligence and wisdom come from God. In our daily lives, when we pray to God in difficulty, God will raise up someone to help us; sometimes when we learn something new, even if we think it over, we still don't know how to do it, but after we pray to God, we become enlightened unconsciously and know how to do it. It can be seen that with God's enlightenment and guidance, all our difficulties will be solved easily. It reminds me of a passage: "You must have faith that everything is in God's hands, and that humans are merely coordinating with Him. If you are sincere, God will see it and He will open up all paths for you, making difficulties no longer difficult. You must be confident in this." In every matter we encounter, we should learn to rely on God, God's words, and the wisdom from God to overcome every problem in our lives.
There's another passage saying, "No matter how great or small their stature is or what their personal environment is like, something that they cannot be without is looking to God and relying on God in all things; this is the greatest wisdom." God's almightiness is everywhere, and is not influenced by any people, events, or things, or other objective factors. As long as we truly rely on God, He will be our ever-present help. Just as the Bible said, "The Lord is my rock, and my fortress, and my deliverer; my God, my strength, in whom I will trust; my buckler, and the horn of my salvation, and my high tower" (Psalm 18:2). Will we have the faith to rely on God after we understand these?
Today's Verse Illustrated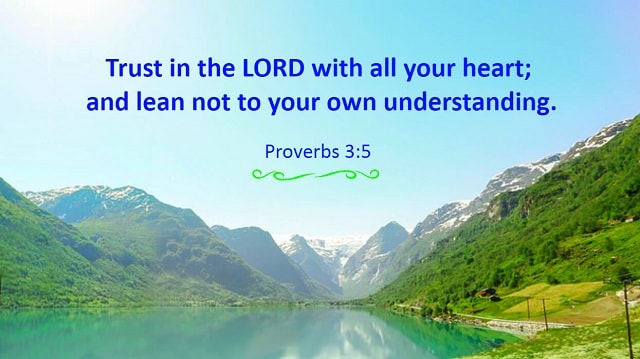 • Welcome to use our Bible Verse of the Day to enrich your spiritual life.
Join Online Meeting Group
Did you know? God is using all sorts of ways to tell you the good news that the Lord has returned. Are you ready to welcome the Lord's coming?
Leave a Reply