The Bible Reading Made Easy App—A Convenient and Easy Tool for Bible Study
Reading the Bible is a daily must for Christian devotionals and it's also a way to draw near to God. However, because we often find no light when reading the Scriptures, we're likely going through the motions and even becoming less willing to read the Bible, which then causes our relationship with God to become more and more distant. Do you have the same problem? How can we read the Bible effectively?
Following the recommendation of my brothers and sisters, I installed an app—Bible Reading Made Easy.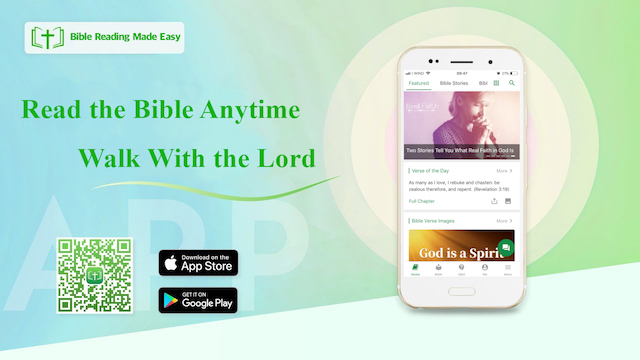 You can find Bible Reading Made Easy with this green icon in Google Play or App Store, and download it. This app not only has a free, searchable Bible for us to read anytime, but it also provides all sorts of articles, music, videos and other content, so we can gain access to the rich supply in devotionals.
First, I will introduce the Bible section. In this interface, we can navigate and read the Bible. Convenient and flexible methods are provided for navigating the Scriptures. We can input a keyword to quickly locate the passage we want, and set our search parameters to make the search results more accurate. The navigation menu will also help us quickly get to our desired verse. Besides, while reading the Bible, we can add bookmarks, highlight verses, customize fonts, line spacing and background color preferences, and use the note taking function to record our personal insights at any time.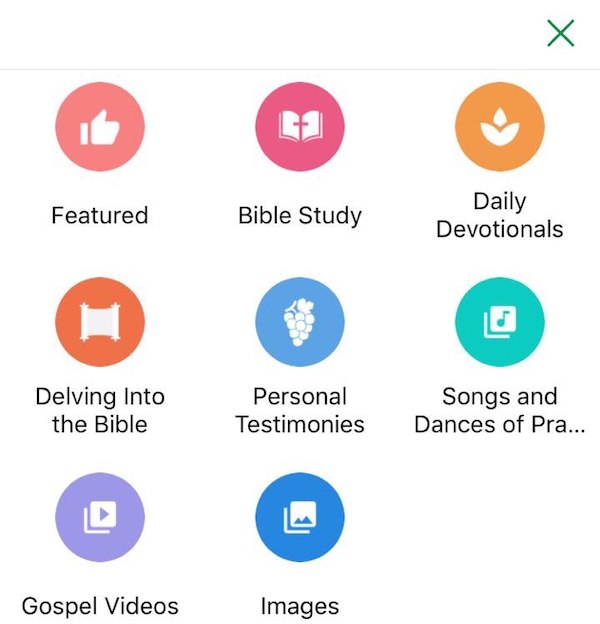 Next, let's look at the Home interface. This section combines Bible Study, Daily Devotionals, Delving Into the Bible, Personal Testimonies, Resolving Spiritual Confusion, Songs and Dances of Praise, Gospel Videos, and other tabs. There is a lot of wonderful content such as movies, articles, hymns, readings of God's words, and music videos. With this rich content, we won't feel bored and lacking in spiritual enjoyment during our devotions, and it will be easier for us to understand the truth and of God.
By selecting Bible Study from the Home interface, you can see Bible Verses of the Day, Bible Stories and other interesting content. Bible Verses of the Day has choice verses from the Old and New Testaments, integrated with unadulterated interpretations, which helps us better ponder and understand these verses. Bible Verses by Topic is a collection of some classic verses from the Old and New Testaments that are organized by topic, including obedience, humility, faith, honesty and salvation. We can select corresponding passages according to the problems and difficulties in our day-to-day lives. In this way, our devotionals will be more effective, and we'll understand God's intentions and find the correct path of practice to resolve our problems. In Bible Stories section, illustrated Bible stories from the Age of Law and the Age of Grace will lead us through the details of God's work and deepen our understanding of God.
In addition to these rich resources in the Bible Study section alone, there is much more exciting content in this app. Delving Into the Bible provides a variety of truths such as how to be wise virgins and welcome the Lord, the difference between being saved and attaining full salvation, how to be raptured into the kingdom of heaven and so on, which reveal the mysteries in the Bible and point out the path to the heavenly kingdom. Personal Testimonies is a carefully curated selection of Christians' essays on their experiences and testimonies, helping us understand God's will in a variety of environments and find the correct path of practice. Gospel Videos has a compilation of Christian song videos, gospel films and many more video works, helping us understand all aspects of the truth and enjoy life sustenance from God. I won't list all the sections out one by one. To find out more, you can try this app personally.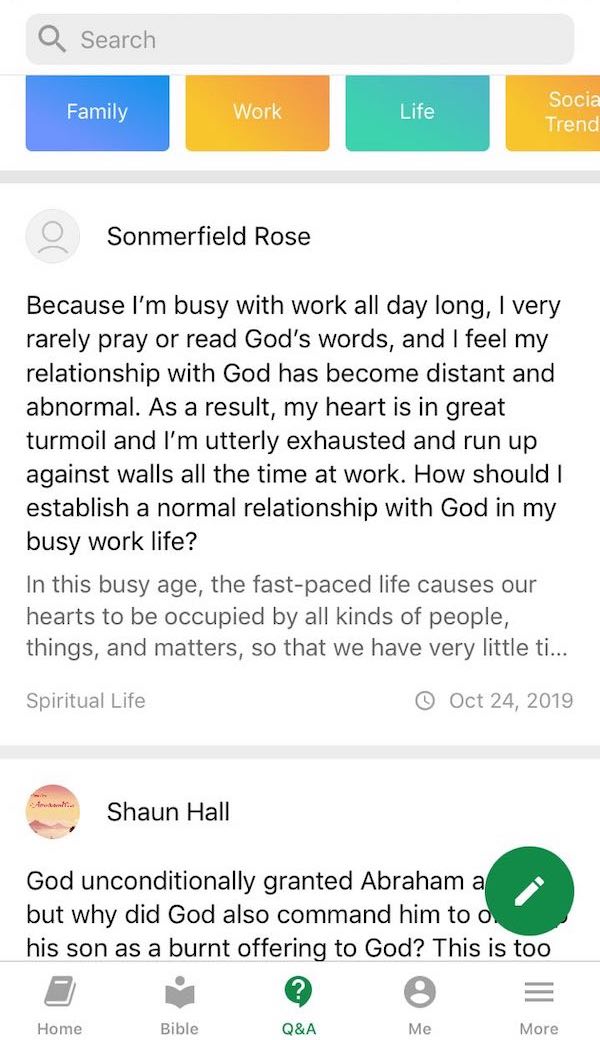 Notably, Bible Reading Made Easy has a Q&A function. We can ask anything using the function, whether it's a question that comes up while reading Scripture or a difficulty we encounter in everyday life and in faith. Some brothers and sisters may say: "That would be a nice feature. But I would have to wait a while for a reply. What if I want to resolve my problem as soon as possible?" Don't worry! Q&A brings together a number of questions and answers. We can search for key terms to find the answers we're seeking. Besides, it is so convenient for us to contact the dedicated representatives through live chat at the lower right corner of the Home interface or in the More interface. They are available 24 hours a day to resolve our questions and difficulties.
At last, I want to introduce the custom image function, which not only enables us to share and download the Bible verse images we like, but also to easily create custom images. We will find a selection of images by just tapping the square button in the Verse of the Day from the Featured section. Once an image has been selected, we can add our favorite Bible verses and then adjust text fonts, typography and other settings according to our preferences. After we are done editing, we can share these images with our families and friends and set them as the wallpaper on our phones or tablets.
What's more, this app is completely free and will be updated occasionally with new features. All sorts of spiritual resources are waiting for you in Bible Reading Made Easy. Try it today!
Recommended:
Join Online Meeting Group
Did you know? God is using all sorts of ways to tell you the good news that the Lord has returned. Are you ready to welcome the Lord's coming?
Leave a Reply