Be Careful for Nothing - Philippians 4:6-7
Today's Verse
Be careful for nothing; but in every thing by prayer and supplication with thanksgiving let your requests be made known to God. And the peace of God, which passes all understanding, shall keep your hearts and minds through Christ Jesus.
Thoughts on Today's Bible Verse:
This verse states the practice that Christians need to do: no matter what kind of matters befall us, we should pray God to put aside our worries and rely on God exclusively. Then we can live before God feeling peaceful and secure in our hearts and having no anxiety about loss and gain, nor great sorrow or joy.
In our life, every day we will encounter different matters, big or small, and these matters will bring us effect of varying degrees. Facing the problems that are difficult to solve, we always get entangled in them and feel great pressure and pain. Here is a way: rely on God. Just as God's word says: "You must be proactive in cooperating with Me; be diligent and never lazy. Always be in fellowship with Me and have deeper intimacy with Me. If you do not understand, do not be impatient for quick results. It's not that I won't tell you; I want to see if you rely on Me when you are in My presence and whether you depend on Me with confidence. You must always remain close to Me and place all matters in My hands. Do not go back in vain. After unknowingly being close to Me for a period of time, My intentions shall be revealed to you. If you grasp them, then you will truly be face-to-face with Me, and you will have truly found My face. You will be quite clear and steady within and you will have something to rely on, and you will also have power as well as confidence. You will also have a path forward and everything will come easy to you." From God's word, we can see it's very important to rely on God in everything. As long as we seek more to know God's will, we will see that nothing is impossible for God. Rely on God, and every problem will be solved easily. In this way, we won't feel pain, but feel more confident in God.
Today's Bible Verse Illustrated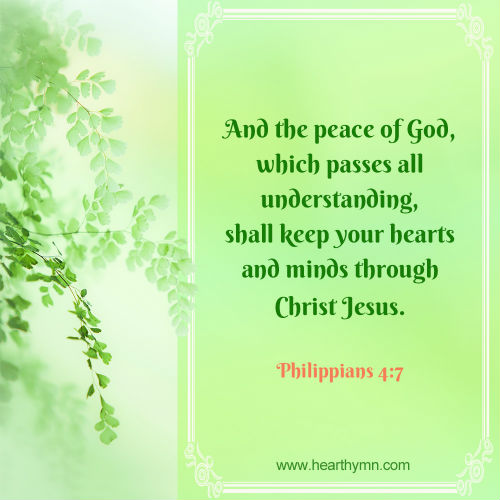 • Welcome to use our Bible Verse of the Day to enrich your spiritual life.
Join Our Online Meeting Group
Now disasters are occurring. The Lord has already come back! How can we seize the chance to welcome the Lord amidst disasters and gain God's protection? Would you like to join our online meetings about welcoming the Lord's return?
Leave a Reply