And all things, whatever you shall ask in prayer, believing, you shall receive.
– Matthew 21:22
Thoughts on Today's Verse…
This is Jesus Christ' promise to us. As long as we have faith and pray to Him, He will surely fulfill what we ask in prayer. Jesus Christ also said, "Truly I say to you, If you have faith, and doubt not, you shall not only do this which is done to the fig tree, but also if you shall say to this mountain, Be you removed, and be you cast into the sea; it shall be done. And all things, whatever you shall ask in prayer, believing, you shall receive" (Matthew 21:21-22). Many Christians have such confusion: since Jesus Christ has promised us, why doesn't He answer our prayers? Actually, Jesus Christ doesn't respond to us as we imagine. Sometimes, when we pray to Him, He will immediately guide us to understand His will and our difficulties will be solved. But sometimes, we need to wait several days or more to receive His response after praying. At this time, we shouldn't be discouraged but continue to pray, and Jesus Christ will respond to us at His time. I saw a passage of words in a spiritual book, and I'd like to share with you: "All things under God's arrangements and sovereignty obey natural laws, and if you resolve to let God arrange and dictate everything for you, you should learn to wait, you should learn to seek, you should learn to submit. This is the attitude that every person who wants to submit to God's authority must take, the basic quality that every person who wants to accept God's sovereignty and arrangements must possess. To hold such an attitude, to possess such a quality, you must work harder; and only thus can you enter into the true reality."
Whatever happens, as long as we truly pray to and rely on God, we'll have a way forward.
Extended Reading:
• How to Pray in Accord With the Lord's Will?
• 3 Tips To Get Your Prayers Answered
• How to Pray to God Correctly to Be Heard by Him
• Two Stories Tell You What Real Faith in God Is
• 2 Stories Help You Hold Onto Faith in God in Difficulties
---
Today's Verse Illustrated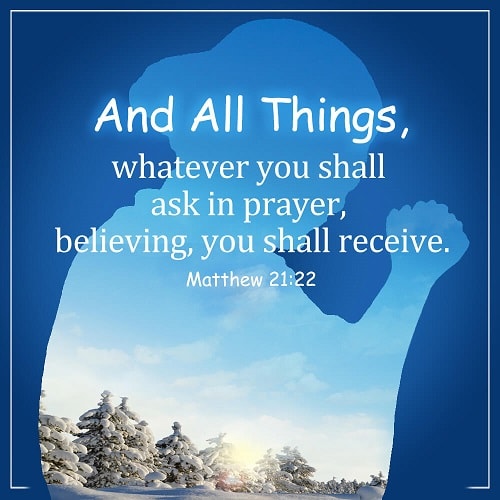 ---
• We welcome you to use our Bible Verse of the Day to enrich your spiritual life.
Chat With Us!
Now disasters occur frequently. How should we rely on God and worship Him to strengthen our faith? We invite you to join our online meeting group to seek the way together.