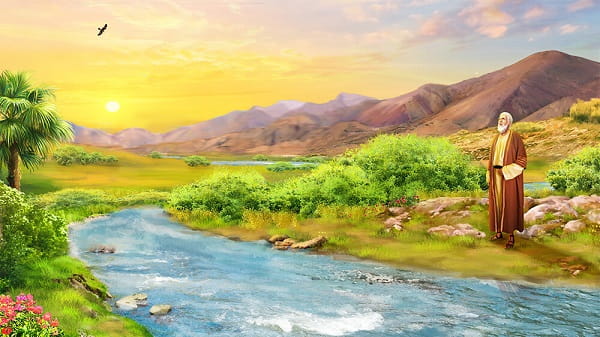 In the following passage of scripture, Job then says, "Behold, I go forward, but he is not there; and backward, but I cannot perceive him: On the left hand, where he does work, but I cannot behold him: he hides himself on the right hand, that I cannot see him" (Job 23:8-9). In this account, we learn that in Job's experiences, God had been hidden to him throughout; God had not openly appeared to him, nor had He openly spoken any words to him, yet in his heart, Job was confident of God's existence. He had always believed that God might be walking before him, or might be acting by his side, and that although he could not see God, God was next to him governing his all. Job had never seen God, but he was able to stay true to his faith, which no other person was able to do. And why couldn't they? Because God did not speak to Job, or appear to him, and if he had not truly believed, he could not have gone on, nor could he have held fast to the way of fearing God and shunning evil. Is this not true? How do you feel when you read of Job saying these words? Do you feel that Job's perfection and uprightness, and his righteousness before God, are true, and not an exaggeration on the part of God? Even though God treated Job the same as other people, and did not appear or speak to him, Job still held firm to his integrity, he still believed in God's sovereignty, and, furthermore, he frequently offered burnt offerings and prayed before God as a result of his fear of offending God. In Job's ability to fear God without having seen God, we see how much he loved positive things, and how firm and real his faith was. He did not deny the existence of God because God was hidden from him, nor did he lose his faith and forsake God because he had never seen Him. Instead, amid God's hidden work of ruling all things, he had realized the existence of God, and felt the sovereignty and power of God. He did not give up on being upright because God was hidden, nor did he forsake the way of fearing God and shunning evil because God had never appeared to him. Job had never asked that God openly appear to him to prove His existence, for he had already beheld God's sovereignty among all things, and he believed that he had gained the blessings and graces that others had not gained. Although God remained hidden to him, Job's faith in God was never shaken. Thus, he harvested what none other had: God's approval and God's blessing.
From God's Work, God's Disposition, and God Himself II
• Read more: God's Work, God's Disposition, and God Himself (II)
---
Dear brothers and sisters, If you have any understanding or enlightenment from God, welcome to share with us.
1. Via the online chat window at the bottom of the website.
2. Send an email to [email protected].
We sincerely hope we'll grow spiritually through sharing with each other.
Chat With Us!
Now, disasters are occurring frequently everywhere. In the Philippines, the pandemic and the famine have not passed yet and powerful Typhoon Molave, Goni and Tropical Storm Atsani have landed. Biblical prophecies of the coming of the Lord have been fulfilled. It stands to reason that the Lord has returned—so why have we yet to welcome His arrival? Will we not be plunged into the great tribulation if this carries on? And just what should we do to welcome the Lord's coming?