Have You Paid Attention to the Church of Almighty God ?
The Church of Almighty God has gradually been the focus of the advanced minds in today's society. Many people fix their eyes on its development trend and they can't help marveling and feeling amazed: Why can this Church, persecuted cruelly by the CCP government, develop so rapidly under a great deal of opposition? Why can the Church of Almighty God have their own choir and filmmaking group while setting up churches around the world in such a short time? Why can these unprofessional Christians actually make so many wonderful films that convey positive energy?
All those who have seen the websites and films of the Church of Almighty God know that their films are testifying Christ of the last days—Almighty God. These films, based on God's chosen people's personal experiences of the end-time work and word of Almighty God, reflect the deep-seated things of mankind and the key problems that need to be solved urgently. These films create the precious positive energy to the world, and they are adequate to awaken all those who have conscience throughout the world.
As for the chosen people of the Church of Almighty God,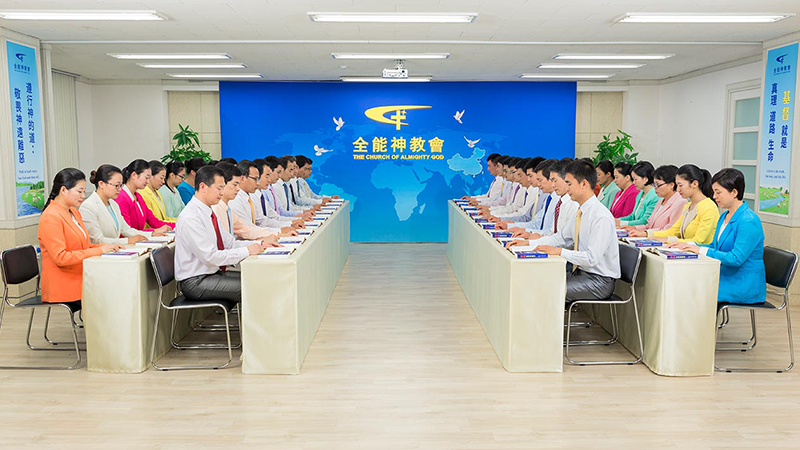 the name they pray in is Almighty God, what they accept is the truth expressed by Almighty God, what they obey is the work of Almighty God, and what they practice is the word of Almighty God. So, the One they believe in is Almighty God—the Christ incarnated in the last days. Outwardly, Almighty God is an ordinary person. But in substance He is the embodiment of God's Spirit. He possesses full divinity. His word is the direct expression of God's Spirit and is the truth, the way, and the life. Almighty God is the incarnate practical God. All those who submit under the name of Almighty God are conquered because they have seen the appearance of Almighty God and accepted Almighty God's judgment and chastisement in the end time. Then, they start performing their duty to repay God's love, spreading Almighty God's word and witnessing His work by means of films and choir performances. The Holy Spirit thereby works greatly. Thus, Almighty God's end-time work has been worldwidely testified, and God has gained many people who sincerely love Him from different countries and places. God's work has been accomplished! Just as Almighty God says, "Throughout the universe I am doing My work, and in the East, thunderous crashes issue forth endlessly, shaking all denominations and sects. It is My voice that has brought all men to the present. I let My voice be that which subdues man; they all fall into this stream and all submit before Me, for I have long ago reclaimed My glory from all the earth and issued it forth anew in the East. Who does not long to see My glory? Who does not anxiously await My return? Who does not thirst for My reappearance? Who does not long for My loveliness? Who would not come to the light? Who would not see the richness of Canaan? Who does not long for the return of the 'Redeemer'? Who does not adore the Great Almighty? My voice must spread throughout all the earth; I wish to speak more to My chosen people. The words I utter shake the mountains and rivers like mighty thunders; I speak to all the universe and to mankind. Hence My words become man's treasure, and all men cherish them. The lightning flashes from the East even to the West. My words are such that man loathes to give them up and finds them unfathomable, but moreover, man rejoices in them. Like a newborn infant, all men are glad and joyful, celebrating My coming. Because of My voice, I shall bring all men before Me. Thenceforth, I shall formally enter among men so that they come to worship Me. The glory I give forth and My words make it such that all men come before Me and see that the lightning flashes from the East, and that I have also descended unto the 'Mount of Olives' of the East. They will see that I have already long been on earth, no longer the 'Son of the Jews' but the Lightning of the East. For I have long since been resurrected, gone away from among men, then reappeared among men with glory. I am He who was worshiped before the ages, and the 'infant' forsaken by the Israelites before the ages. Moreover, I am the all-glorious Almighty God of the present age! Let all come before My throne to see My glorious countenance, hear My voice, and watch My deeds. This is the entirety of My will; it is the end and climax of My plan, as well as the purpose of My management. Let every nation worship Me, every tongue acknowledge Me, every man trust Me, and every people be subject unto Me!" (from The Word Appears in the Flesh)
Share a video about the Church of Almighty God to you: The Origin and Development of the Church of Almighty God