Bible Verses About Peace: The world is full of distresses and hardships, we are prone to worry and anxiety every day. As for us, the best thing is to pray to God, read His word and listen to the praise hymns even when we feel hopeless. The following are 15 Bible verses about peace. You are welcome to read them. And we hope these verses can remind you of how much God loves you and that He wants you to pray and rely on Him.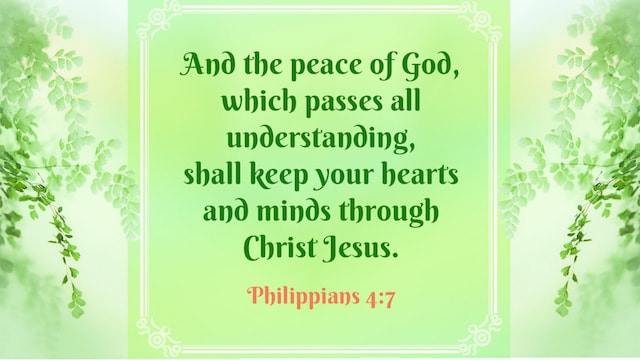 30 Best Bible Verses About Peace
Colossians 3:15
And let the peace of God rule in your hearts, to the which also you are called in one body; and be you thankful.
Galatians 5:22
But the fruit of the Spirit is love, joy, peace, long-suffering, gentleness, goodness, faith,
Hebrews 12:14
Follow peace with all men, and holiness, without which no man shall see the Lord:
1 Peter 3:11
Let him eschew evil, and do good; let him seek peace, and ensue it.
1 Peter 5:7
Casting all your care on him; for he cares for you.
1 Thessalonians 5:15
See that none render evil for evil to any man; but ever follow that which is good, both among yourselves, and to all men.
James 3:18
And the fruit of righteousness is sown in peace of them that make peace.
Philippians 4:7
And the peace of God, which passes all understanding, shall keep your hearts and minds through Christ Jesus.
Proverbs 12:20
Deceit is in the heart of them that imagine evil: but to the counsellors of peace is joy.
Proverbs 16:7
When a man's ways please the LORD, he makes even his enemies to be at peace with him.
Psalms 29:11
The LORD will give strength to his people; the LORD will bless his people with peace.
Romans 12:18
If it be possible, as much as lies in you, live peaceably with all men.
Romans 14:19
Let us therefore follow after the things which make for peace, and things with which one may edify another.
Psalms 34:14
Depart from evil, and do good; seek peace, and pursue it.
Matthew 10:34-36
Think not that I am come to send peace on earth: I came not to send peace, but a sword.   35 For I am come to set a man at variance against his father, and the daughter against her mother, and the daughter in law against her mother in law.   36 And a man's foes shall be they of his own household.
1 Peter 3:9-11
Not rendering evil for evil, or railing for railing: but contrariwise blessing; knowing that you are thereunto called, that you should inherit a blessing.   10 For he that will love life, and see good days, let him refrain his tongue from evil, and his lips that they speak no guile:   11 Let him eschew evil, and do good; let him seek peace, and ensue it.
Psalms 37:37
Mark the perfect man, and behold the upright: for the end of that man is peace.
Psalms 85:8
I will hear what God the LORD will speak: for he will speak peace to his people, and to his saints: but let them not turn again to folly.
Romans 12:17-21
Recompense to no man evil for evil. Provide things honest in the sight of all men.   18 If it be possible, as much as lies in you, live peaceably with all men.   19 Dearly beloved, avenge not yourselves, but rather give place to wrath: for it is written, Vengeance is mine; I will repay, said the Lord.   20 Therefore if your enemy hunger, feed him; if he thirst, give him drink: for in so doing you shall heap coals of fire on his head.   21 Be not overcome of evil, but overcome evil with good.
Psalms 119:165
Great peace have they which love your law: and nothing shall offend them.
Isaiah 9:6
For to us a child is born, to us a son is given: and the government shall be on his shoulder: and his name shall be called Wonderful, Counselor, The mighty God, The everlasting Father, The Prince of Peace.
Isaiah 26:3
You will keep him in perfect peace, whose mind is stayed on you: because he trusts in you.
Isaiah 26:12
LORD, you will ordain peace for us: for you also have worked all our works in us.
Isaiah 54:10
For the mountains shall depart, and the hills be removed; but my kindness shall not depart from you, neither shall the covenant of my peace be removed, said the LORD that has mercy on you.
Isaiah 55:12
For you shall go out with joy, and be led forth with peace: the mountains and the hills shall break forth before you into singing, and all the trees of the field shall clap their hands.
James 2:14-24
What does it profit, my brothers, though a man say he has faith, and have not works? can faith save him?   15 If a brother or sister be naked, and destitute of daily food,   16 And one of you say to them, Depart in peace, be you warmed and filled; notwithstanding you give them not those things which are needful to the body; what does it profit?   17 Even so faith, if it has not works, is dead, being alone.   18 Yes, a man may say, You have faith, and I have works: show me your faith without your works, and I will show you my faith by my works.   19 You believe that there is one God; you do well: the devils also believe, and tremble.   20 But will you know, O vain man, that faith without works is dead?   21 Was not Abraham our father justified by works, when he had offered Isaac his son on the altar?   22 See you how faith worked with his works, and by works was faith made perfect?   23 And the scripture was fulfilled which said, Abraham believed God, and it was imputed to him for righteousness: and he was called the Friend of God.   24 You see then how that by works a man is justified, and not by faith only.
Matthew 11:28-30
Come to me, all you that labor and are heavy laden, and I will give you rest.   29 Take my yoke on you, and learn of me; for I am meek and lowly in heart: and you shall find rest to your souls.   30 For my yoke is easy, and my burden is light.
John 16:33
These things I have spoken to you, that in me you might have peace. In the world you shall have tribulation: but be of good cheer; I have overcome the world.
John 14:27
Peace I leave with you, my peace I give to you: not as the world gives, give I to you. Let not your heart be troubled, neither let it be afraid.
Luke 7:5
For he loves our nation, and he has built us a synagogue.
Romans 14:17-19
For the kingdom of God is not meat and drink; but righteousness, and peace, and joy in the Holy Ghost.   18 For he that in these things serves Christ is acceptable to God, and approved of men.   19 Let us therefore follow after the things which make for peace, and things with which one may edify another.
1 Corinthians 14:33
For God is not the author of confusion, but of peace, as in all churches of the saints.
2 Thessalonians 3:16
Now the Lord of peace himself give you peace always by all means. The Lord be with you all.
Romans 15:13
Now the God of hope fill you with all joy and peace in believing, that you may abound in hope, through the power of the Holy Ghost.
Philippians 4:6-7
Be careful for nothing; but in every thing by prayer and supplication with thanksgiving let your requests be made known to God.   7 And the peace of God, which passes all understanding, shall keep your hearts and minds through Christ Jesus.
Recommended:
Peace be with you all! Dear brothers and sisters, if you have any understanding or enlightenment from God, you're welcome to share with us.
1. Via the online chat window at the bottom right corner of the screen.
2. Send an email to [email protected].
We sincerely hope we'll grow spiritually through sharing with each other.