18 Amazing Bible Verses about the Almighty
Life in this world is so often glutted with difficulties or misfortunes. When we rely on ourselves to solve or bear these things, we always feel very hard and even exhausted. But when we rely on God in all things, all things become easy. Because God is almighty, God holds sovereignty over all things, everything of us has long been arranged by God. Now we'll list 10 verses about God's Almightiness. Through reading these verses, we can have more knowledge of God's Almightiness, and we can learn to come before God and rely on God to solve all our difficulties.
Welcome to use our Bible Verses By Topic page to quickly find verses about popular topics.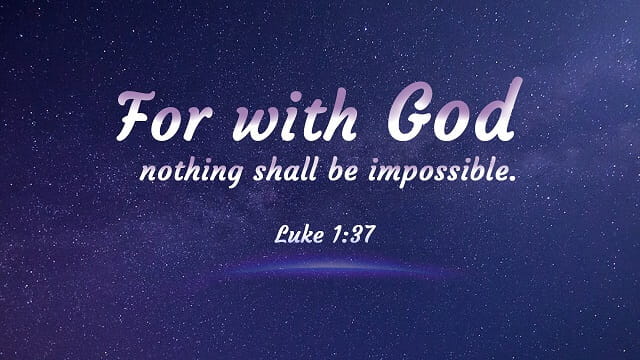 Luke 1:37
For with God nothing shall be impossible.
Revelation 1:8
I am Alpha and Omega, the beginning and the ending, said the Lord, which is, and which was, and which is to come, the Almighty.
Genesis 17:1
And when Abram was ninety years old and nine, the LORD appeared to Abram, and said to him, I am the Almighty God; walk before me, and be you perfect.
2 Chronicles 25:8
But if you will go, do it; be strong for the battle: God shall make you fall before the enemy: for God has power to help, and to cast down.
Psalm 62:11
God has spoken once; twice have I heard this; that power belongs to God.
Psalm 93:4
More than the sounds of many waters, Than the mighty breakers of the sea, The LORD on high is mighty.
Romans 16:27
To God only wise, be glory through Jesus Christ for ever. Amen.
Psalm 115:3
But our God is in the heavens: he has done whatever he has pleased.
Matthew 19:26
But Jesus beheld them, and said to them, With men this is impossible; but with God all things are possible.
Luke 1:37
For with God nothing shall be impossible.
Revelation 4:8
And the four beasts had each of them six wings about him; and they were full of eyes within: and they rest not day and night, saying, Holy, holy, holy, LORD God Almighty, which was, and is, and is to come.
Revelation 11:17
Saying, We give you thanks, O LORD God Almighty, which are, and were, and are to come; because you have taken to you your great power, and have reigned.
Revelation 15:3
And they sing the song of Moses the servant of God, and the song of the Lamb, saying, Great and marvelous are your works, Lord God Almighty; just and true are your ways, you King of saints.
Revelation 16:7
And I heard another out of the altar say, Even so, Lord God Almighty, true and righteous are your judgments.
Revelation 19:15
And out of his mouth goes a sharp sword, that with it he should smite the nations: and he shall rule them with a rod of iron: and he treads the wine press of the fierceness and wrath of Almighty God.
Job 29:5
When the Almighty was yet with me, when my children were about me;
Ezekiel 1:24
And when they went, I heard the noise of their wings, like the noise of great waters, as the voice of the Almighty, the voice of speech, as the noise of an host: when they stood, they let down their wings.
Revelation 21:22
And I saw no temple therein: for the Lord God Almighty and the Lamb are the temple of it.
Join Online Meeting Group
Signs of the second coming of the Lord Jesus have appeared. Have you welcomed Him? Click to join us to find the way to welcome the Lord.
Leave a Reply