Important Bible Verses about Being Born Again – The Lord told us only man who is born again can enter into God's kingdom, while those who are not born again will be eliminated by God. So what does rebirth refer to? Let's ponder God's will in the following Bible verses about being born again.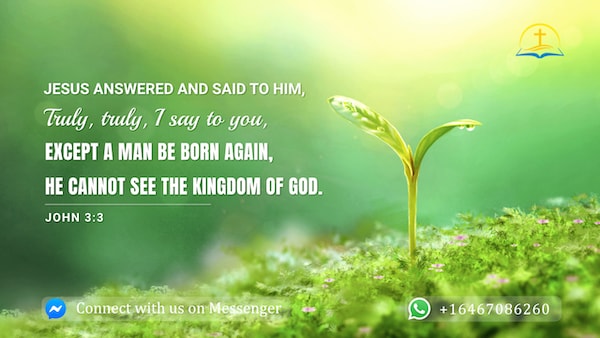 Jesus answered and said to him, Truly, truly, I say to you, Except a man be born again, he cannot see the kingdom of God.
– John 3:3
---
Therefore if any man be in Christ, he is a new creature: old things are passed away; behold, all things are become new.
– 2 Corinthians 5:17
---
Jesus answered, Truly, truly, I say to you, Except a man be born of water and of the Spirit, he cannot enter into the kingdom of God. That which is born of the flesh is flesh; and that which is born of the Spirit is spirit. Marvel not that I said to you, You must be born again.
– John 3:5-7
---
your youth is renewed like the eagle's
– Psalm 103:5
Being born again, not of corruptible seed, but of incorruptible, by the word of God, which lives and stays for ever.
– 1 Peter 1:23
---
For the wages of sin is death; but the gift of God is eternal life through Jesus Christ our Lord.
– Romans 6:23
Disasters occur one after another in the last days. When will the Lord rapture us into the heavenly kingdom?
Join our online meetings and your confusion will be resolved.
---
»Popular Bible Verse Topics:
Bible Verses to Strengthen Your Marriage
Bible Verses About Family Love
Chat With Us!
Now disasters occur frequently. How should we rely on God and worship Him to strengthen our faith? We invite you to join our online meeting group to seek the way together.