20 Bible Verses about the Sovereignty of God
No matter whether your life is poor or wealthy, rough or smooth, we don't need to worry about it. Because God dominates over the fate of everyone. We will never know what would happen the next moment. Too much worry only make us depressed and sorrowful. Here, we want to share some verses about the sovereignty of God, in the hope that through reading these verses, we can bare our souls and learn to obey the sovereignty and arrangements of Him. Through thick and thin, we should believe that in all this there is God's good intentions because His intentions are often hidden within situations.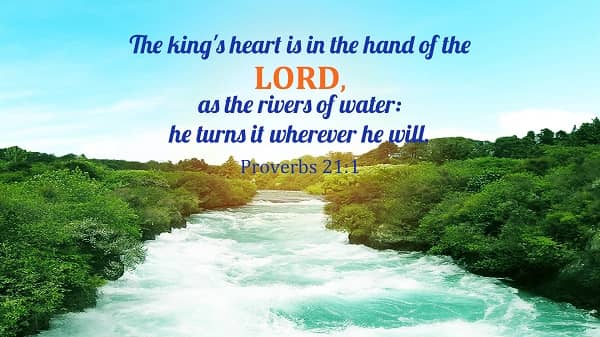 Isaiah 46:10
Declaring the end from the beginning, and from ancient times the things that are not yet done, saying, My counsel shall stand, and I will do all my pleasure:
Proverbs 21:1
The king's heart is in the hand of the LORD, as the rivers of water: he turns it wherever he will.
Luke 1:37
For with God nothing shall be impossible.
Matthew 19:26
But Jesus beheld them, and said to them, With men this is impossible; but with God all things are possible.
1 Samuel 2:10
The adversaries of the LORD shall be broken to pieces; out of heaven shall he thunder on them: the LORD shall judge the ends of the earth; and he shall give strength to his king, and exalt the horn of his anointed.
Isaiah 43:13
Yes, before the day was I am he; and there is none that can deliver out of my hand: I will work, and who shall let it?
Isaiah 43:15
I am the LORD, your Holy One, the creator of Israel, your King.
Revelation 15:3
And they sing the song of Moses the servant of God, and the song of the Lamb, saying, Great and marvelous are your works, Lord God Almighty; just and true are your ways, you King of saints.
Revelation 19:6
And I heard as it were the voice of a great multitude, and as the voice of many waters, and as the voice of mighty thunder, saying, Alleluia: for the Lord God omnipotent reigns.
Genesis 24:3
And I will make you swear by the LORD, the God of heaven, and the God of the earth, that you shall not take a wife to my son of the daughters of the Canaanites, among whom I dwell:
Matthew 5:34
But I say to you, Swear not at all; neither by heaven; for it is God's throne:
Matthew 19:28
And Jesus said to them, Truly I say to you, That you which have followed me, in the regeneration when the Son of man shall sit in the throne of his glory, you also shall sit on twelve thrones, judging the twelve tribes of Israel.
Revelation 4:2
And immediately I was in the spirit: and, behold, a throne was set in heaven, and one sat on the throne.
Revelation 20:11
And I saw a great white throne, and him that sat on it, from whose face the earth and the heaven fled away; and there was found no place for them.
Revelation 4:11
You are worthy, O Lord, to receive glory and honor and power: for you have created all things, and for your pleasure they are and were created.
1 Timothy 6

:

15
Which in his times he shall show, who is the blessed and only Potentate, the King of kings, and Lord of lords;
Luke 1:51-53
He has showed strength with his arm; he has scattered the proud in the imagination of their hearts.
He has put down the mighty from their seats, and exalted them of low degree.
He has filled the hungry with good things; and the rich he has sent empty away.
Matthew 10:29-30
Are not two sparrows sold for a farthing? and one of them shall not fall on the ground without your Father.
But the very hairs of your head are all numbered.
Luke 12:6-7
Are not five sparrows sold for two farthings, and not one of them is forgotten before God?
But even the very hairs of your head are all numbered. Fear not therefore: you are of more value than many sparrows.
John 1:3-4
All things were made by him; and without him was not any thing made that was made.
In him was life; and the life was the light of men.
Leave a Reply