The lord Jesus said, "And whoever shall exalt himself shall be abased; and he that shall humble himself shall be exalted." From God's words, we can see God loves and blesses those who are . Then how can we become a humble man and receive God's blessings? There are many words of warning in the Old Testament on  the refusal to be humble, and in the New Testament there are many words of blessing to the humble. May we be enlightened from these verses listed here and be humble.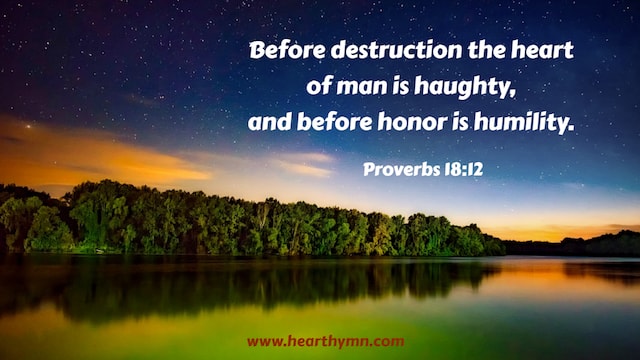 10 Bible Verses About Humility
Proverbs 18:12
Before destruction the heart of man is haughty, and before honor is humility.
Job 22:29
When men are cast down, then you shall say, There is lifting up; and he shall save the humble person.
Psalm 76:8
You did cause judgment to be heard from heaven; the earth feared, and was still,
Psalm 147:6:
The LORD lifts up the meek: he casts the wicked down to the ground.
Proverbs 15:33
The fear of the LORD is the instruction of wisdom; and before honor is humility.
Matthew 18:4
Whoever therefore shall humble himself as this little child, the same is greatest in the kingdom of heaven.
Matthew 11:29
Take my yoke on you, and learn of me; for I am meek and lowly in heart: and you shall find rest to your souls.
1 Peter 5:5
Likewise, you younger, submit yourselves to the elder. Yes, all of you be subject one to another, and be clothed with humility: for God resists the proud, and gives grace to the humble.
Philippians 2:3
Let nothing be done through strife or vainglory; but in lowliness of mind let each esteem other better than themselves.
Isaiah 57:15
For thus said the high and lofty One that inhabits eternity, whose name is Holy; I dwell in the high and holy place, with him also that is of a contrite and humble spirit, to revive the spirit of the humble, and to revive the heart of the contrite ones.
You are welcome to leave messages to us or chat with us via the online window at the bottom of the website, or use our Bible verses by topics page to quickly find verses about popular topics.
Recommended:
Almighty God's Word Has Conquered the Arrogant Me
Chat With Us!
Now disasters occur frequently. How should we rely on God and worship Him to strengthen our faith? We invite you to join our online meeting group to seek the way together.