Bible verses about faith: If you feel you become more and more distant from God, or you are seeking to learn more knowledge about faith in God, then it's important to seek God and rely on God. If you would like to deepen your relationship with God, the below verses about faith will help you.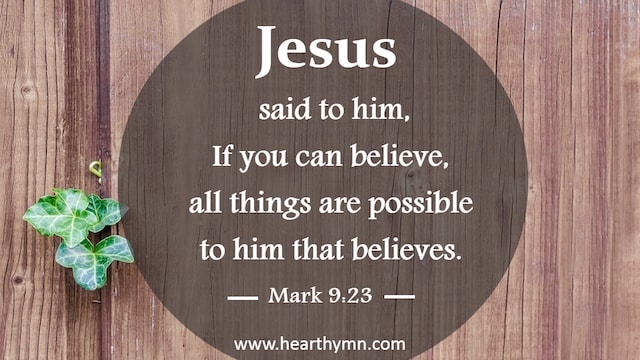 Truth Quote:
"When you have faith and you can touch His actions in your practical experience, God will appear to you, and He will enlighten and guide you from within. Without that faith, God will be unable to do that. If you have lost hope in God, how will you be able to experience Him? Therefore, only when you have faith and you do not harbor doubts toward God, only when you have true faith in Him no matter what He does will He enlighten and illuminate you in your experiences, and only then will you be able to see His actions. These things are all achieved through faith, and faith is only achieved through refinement—faith cannot develop in the absence of refinement."
from "Those Who Are to Be Made Perfect Must Undergo Refinement"
---
Mark 9:23
Jesus said to him, If you can believe, all things are possible to him that believes. 
Matthew 8:10
When Jesus heard it, he marveled, and said to them that followed, Truly I say to you, I have not found so great faith, no, not in Israel. 
Matthew 8:13
And Jesus said to the centurion, Go your way; and as you have believed, so be it done to you. And his servant was healed in the selfsame hour. 
Matthew 9:2
And, behold, they brought to him a man sick of the palsy, lying on a bed: and Jesus seeing their faith said to the sick of the palsy; Son, be of good cheer; your sins be forgiven you. 
Matthew 15:28
Then Jesus answered and said to her, O woman, great is your faith: be it to you even as you will. And her daughter was made whole from that very hour. 
Matthew 17:20
And Jesus said to them, Because of your unbelief: for truly I say to you, If you have faith as a grain of mustard seed, you shall say to this mountain, Remove hence to yonder place; and it shall remove; and nothing shall be impossible to you. 
Matthew 21:21
Jesus answered and said to them, Truly I say to you, If you have faith, and doubt not, you shall not only do this which is done to the fig tree, but also if you shall say to this mountain, Be you removed, and be you cast into the sea; it shall be done. 
 Mark 2:5
When Jesus saw their faith, he said to the sick of the palsy, Son, your sins be forgiven you. 
 Mark 4:40
And he said to them, Why are you so fearful? how is it that you have no faith? 
Luke 8:25
And he said to them, Where is your faith? And they being afraid wondered, saying one to another, What manner of man is this! for he commands even the winds and water, and they obey him. 
Luke 17:5
And the apostles said to the Lord, Increase our faith. 
 Luke 22:32
But I have prayed for you, that your faith fail not: and when you are converted, strengthen your brothers. 
Romans 14:23
And he that doubts is damned if he eat, because he eats not of faith: for whatever is not of faith is sin.
Acts 3:16
And his name through faith in his name has made this man strong, whom you see and know: yes, the faith which is by him has given him this perfect soundness in the presence of you all.
Acts 6:5
And the saying pleased the whole multitude: and they chose Stephen, a man full of faith and of the Holy Ghost, and Philip, and Prochorus, and Nicanor, and Timon, and Parmenas, and Nicolas a proselyte of Antioch: 
Isaiah 40:29
He gives power to the faint; and to them that have no might he increases strength.
1 Corinthians 16:13
Watch you, stand fast in the faith, quit you like men, be strong.
 2 Corinthians 1:24
Not for that we have dominion over your faith, but are helpers of your joy: for by faith you stand. 
 2 Corinthians 3:4
And such trust have we through Christ to God-ward: 
2 Corinthians 5:7
(For we walk by faith, not by sight:) 
2 Corinthians 10:15
Not boasting of things without our measure, that is, of other men's labors; but having hope, when your faith is increased, that we shall be enlarged by you according to our rule abundantly, 
2 Corinthians 13:5
Examine yourselves, whether you be in the faith; prove your own selves. Know you not your own selves, how that Jesus Christ is in you, except you be reprobates?
Galatians 5:5
For we through the Spirit wait for the hope of righteousness by faith. 
Galatians 5:6
For in Jesus Christ neither circumcision avails any thing, nor uncircumcision; but faith which works by love. 
Ephesians 3:16
That he would grant you, according to the riches of his glory, to be strengthened with might by his Spirit in the inner man; 
Ephesians 6:10
Finally, my brothers, be strong in the Lord, and in the power of his might. 
Ephesians 6:11
Put on the whole armor of God, that you may be able to stand against the wiles of the devil. 
Colossians 2:2
That their hearts might be comforted, being knit together in love, and to all riches of the full assurance of understanding, to the acknowledgment of the mystery of God, and of the Father, and of Christ; 
2 Timothy 2:1
You therefore, my son, be strong in the grace that is in Christ Jesus. 
2 Thessalonians 1:4
So that we ourselves glory in you in the churches of God for your patience and faith in all your persecutions and tribulations that you endure: 
Hebrews 3:14
For we are made partakers of Christ, if we hold the beginning of our confidence steadfast to the end; 
Hebrews 4:2
For to us was the gospel preached, as well as to them: but the word preached did not profit them, not being mixed with faith in them that heard it. 
Hebrews 10:22
Let us draw near with a true heart in full assurance of faith, having our hearts sprinkled from an evil conscience, and our bodies washed with pure water. 
Hebrews 10:39
But we are not of them who draw back to perdition; but of them that believe to the saving of the soul. 
Hebrews 11:34
Quenched the violence of fire, escaped the edge of the sword, out of weakness were made strong, waxed valiant in fight, turned to flight the armies of the aliens.
Hebrews 12:2
Looking to Jesus the author and finisher of our faith; who for the joy that was set before him endured the cross, despising the shame, and is set down at the right hand of the throne of God.
Hebrews 13:7
Remember them which have the rule over you, who have spoken to you the word of God: whose faith follow, considering the end of their conversation. 
James 1:3-4
Knowing this, that the trying of your faith works patience. But let patience have her perfect work, that you may be perfect and entire, wanting nothing. 
James 2:14
What does it profit, my brothers, though a man say he has faith, and have not works? can faith save him?
James 2:17
Even so faith, if it has not works, is dead, being alone. 
James 2:18
Yes, a man may say, You have faith, and I have works: show me your faith without your works, and I will show you my faith by my works. 
James 2:22
See you how faith worked with his works, and by works was faith made perfect?
James 2:26
For as the body without the spirit is dead, so faith without works is dead also.
James 5:15
And the prayer of faith shall save the sick, and the Lord shall raise him up; and if he have committed sins, they shall be forgiven him. 
1 Peter 1:7
That the trial of your faith, being much more precious than of gold that perishes, though it be tried with fire, might be found to praise and honor and glory at the appearing of Jesus Christ: 
1 Peter 1:21
Who by him do believe in God, that raised him up from the dead, and gave him glory; that your faith and hope might be in God. 
Revelation 13:10
He that leads into captivity shall go into captivity: he that kills with the sword must be killed with the sword. Here is the patience and the faith of the saints. 
Recommended:
Chat With Us!
If you want to go deeper into Bible study and learn the news of the Lord's return, you're welcome to contact us at any time.