Behold, I go forward, but he is not there; and backward, but I cannot perceive him: On the left hand, where he does work, but I cannot behold him: he hides himself on the right hand, that I cannot see him.
– Job 23:8-9
Thought on Today's Verse:
Many people envy that Job could stand witness for God and gain His approval and blessings in the midst of trial after reading Job's story. Maybe someone will ask: Why did Job have much confidence? And why do we easily lose faith in God when we suffer setbacks?
From this verse we can learn that God had not revealed Himself to Job, but Job always believed in God's existence. Job's belief is sincere.
Speaking of Job, a passage in a book says, "In Job's ability to fear God without having seen God, we see how much he loved positive things, and how firm and real his faith was. He did not deny the existence of God because God was hidden from him, nor did he lose his faith and forsake God because he had never seen Him. …, for he had already beheld God's sovereignty among all things, and he believed that he had gained the blessings and graces that others had not gained. Although God remained hidden to him, Job's faith in God was never shaken. Thus, he harvested what none other had: God's approval and God's blessing." Job loved positive things. Because he had experienced God's deeds and known His sovereignty among all things, he could stand witness in the midst of trial. However, when we encounter setbacks, we have no firm faith in God and doubt God's almightiness and sovereignty so we often suffer failures and become weak. Only if we have true faith in God, will we not fall down in adversity. In fact, no matter whether things go well or bad, it is the opportunity to know God and strengthen our faith.
I want to share another passage with everyone, and hope it will help us know God in our real life.
"Job possessed and pursued these things while being unable to see God or hear the words of God; … In his eyes, the laws of all things were full of God's deeds, and God's sovereignty could be seen in any part of a person's life. He had not seen God, but he was able to realize that God's deeds are everywhere, and during his unremarkable time on earth, in every corner of his life he was able to see and realize the extraordinary and wondrous deeds of God, and could see the wondrous arrangements of God. The hiddenness and silence of God did not hinder Job's realization of God's deeds, nor did they affect his knowledge of God's sovereignty over all things. His life was the realization of the sovereignty and arrangements of God, who is hidden among all things, during his everyday life. In his everyday life he also heard and understood the voice of God's heart, and the words of God, who is silent among all things yet expresses the voice of His heart and His words by governing the laws of all things. You see, then, that if people have the same humanity and pursuit as Job, then they can gain the same realization and knowledge as Job, and can acquire the same understanding and knowledge of God's sovereignty over all things as Job."
• We welcome you to use our Bible Verse of the Day to enrich your spiritual life.
---
Today's Verse Illustrated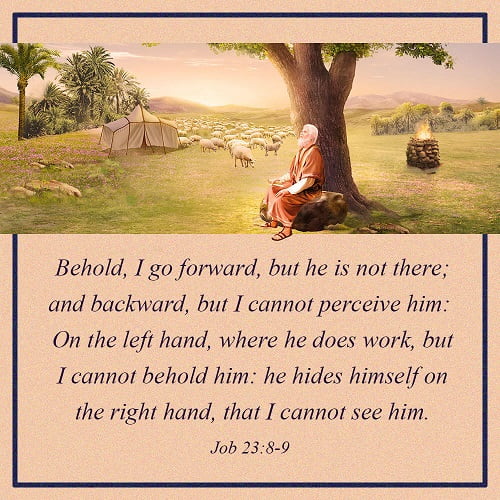 Peace be with you all! Dear brothers and sisters, if you have any understanding or enlightenment from God, you're welcome to share with us.
1. Via the online chat window at the bottom right corner of the screen.
2. Send an email to [email protected].
We sincerely hope we'll grow spiritually through sharing with each other.