Job's Words of Wisdom - Job 1:21
Today's Verse
And said, Naked came I out of my mother's womb, and naked shall I return thither: the LORD gave, and the LORD has taken away; blessed be the name of the LORD.
Thoughts on Today's Bible Verse:
This is true testimony to Job's victory over Satan when he lost all of his property, a mountain of sheep and cattle, children and servants. In such great trials, he still held fast his integrity—fearing God and shunning evil, stood witness without complaint. Thus, he achieved absolute obedience to God and ultimately said such words of wisdom that cowed Satan, which fully showed his true reverence for and obedience to God. Thinking about the times when we face setbacks, difficulties, or poverty in real life, we often complain or be passive and cannot stand testimony for God. Although we believe in God, there's too much of a disparity in the conduct during the trials between Job's and ours. Then what should we do so that we can obey God and stand testimony for Him as Job did? God says, "People these days only know of Job's words of wisdom, and that those words of wisdom of his did not come easily; he had spent a lifetime gaining it. He experienced a lifetime, saw God's hand, saw God's blessings, and saw that everything he owned had been bestowed upon him by God. He had experienced this. If one day these things were to vanish, he knew that God had taken them away. No matter what God did, His name should be praised; this was the conclusion Job came to. So how did he come to this conclusion? He had to go through a process, did he not? This touches upon the path by which people nowadays pursue the truth: how to reach this conclusion and how they can reap such gains. Such gains are not obtained within just a day or two, nor do they come after three or five years. This involves each and every detail of people's lives."
Related Articles:
• The Key to Possessing Job's Faith
• How to Obey God in Adversity? Keep 2 Tips in Mind
Today's Bible Verse Illustrated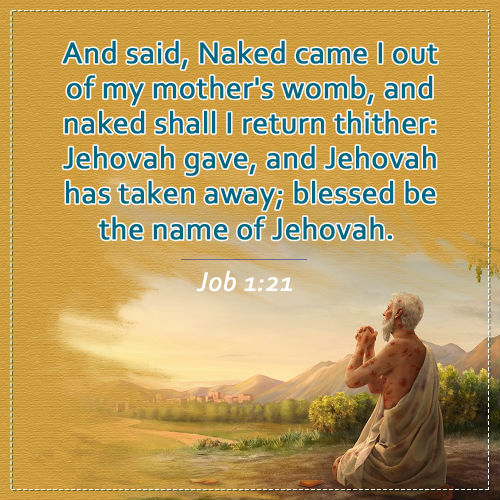 • We welcome you to use our Bible Verse of the Day to enrich your spiritual life.
Join Our Online Devotional Group
Do you want to attend our online meetings and understand more words of God?
Leave a Reply