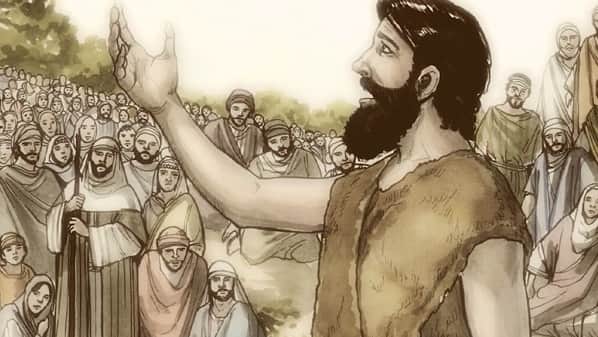 John's Inquiry – Matthew 11
1 And it came to pass, when Jesus had made an end of commanding his twelve disciples, he departed there to teach and to preach in their cities.
2 Now when John had heard in the prison the works of Christ, he sent two of his disciples, 3And said to him, Are you he that should come, or do we look for another? 4 Jesus answered and said to them, Go and show John again those things which you do hear and see: 5 The blind receive their sight, and the lame walk, the lepers are cleansed, and the deaf hear, the dead are raised up, and the poor have the gospel preached to them. 6 And blessed is he, whoever shall not be offended in me.
Jesus Testifies about John – Matthew 11
7 And as they departed, Jesus began to say to the multitudes concerning John, What went you out into the wilderness to see? A reed shaken with the wind? 8 But what went you out for to see? A man clothed in soft raiment? behold, they that wear soft clothing are in kings' houses. 9 But what went you out for to see? A prophet? yes, I say to you, and more than a prophet.
10 For this is he, of whom it is written, Behold, I send my messenger before your face, which shall prepare your way before you.
11 Truly I say to you, Among them that are born of women there has not risen a greater than John the Baptist: notwithstanding he that is least in the kingdom of heaven is greater than he. 12 And from the days of John the Baptist until now the kingdom of heaven suffers violence, and the violent take it by force. 13 For all the prophets and the law prophesied until John. 14 And if you will receive it, this is Elias, which was for to come. 15 He that has ears to hear, let him hear.
16 But whereunto shall I liken this generation? It is like to children sitting in the markets, and calling to their fellows, 17 And saying, We have piped to you, and you have not danced; we have mourned to you, and you have not lamented. 18 For John came neither eating nor drinking, and they say, He has a devil. 19 The Son of man came eating and drinking, and they say, Behold a man gluttonous, and a drunkard, a friend of publicans and sinners. But wisdom is justified of her children.
The Beheading of John – Matthew 14
1 At that time Herod the tetrarch heard of the fame of Jesus, 2 And said to his servants, This is John the Baptist; he is risen from the dead; and therefore mighty works do show forth themselves in him.
3 For Herod had laid hold on John, and bound him, and put him in prison for Herodias' sake, his brother Philip's wife. 4 For John said to him, It is not lawful for you to have her. 5 And when he would have put him to death, he feared the multitude, because they counted him as a prophet.
6 But when Herod's birthday was kept, the daughter of Herodias danced before them, and pleased Herod. 7 Whereupon he promised with an oath to give her whatever she would ask. 8 And she, being before instructed of her mother, said, Give me here John Baptist's head in a charger. 9 And the king was sorry: nevertheless for the oath's sake, and them which sat with him at meat, he commanded it to be given her. 10 And he sent, and beheaded John in the prison. 11 And his head was brought in a charger, and given to the damsel: and she brought it to her mother. 12 And his disciples came, and took up the body, and buried it, and went and told Jesus.
Chat With Us!
Now disasters occur frequently. How should we rely on God and worship Him to strengthen our faith? We invite you to join our online meeting group to seek the way together.