The Price Lived Out by Job During His Lifetime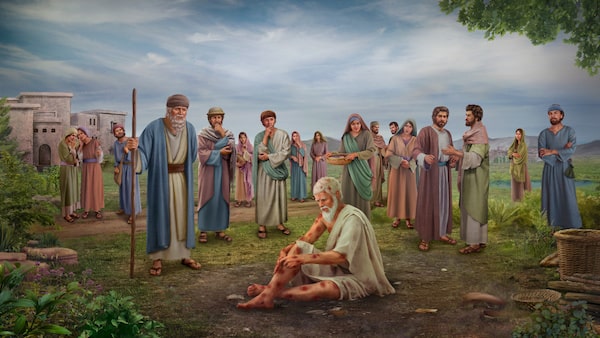 Did Job live a life of value? Where was the value? Why is it said that he lived a life of value? To man, what was his value? From the viewpoint of man, he represented the mankind whom God wishes to save, in bearing a resounding testimony to God before Satan and the people of the world. He fulfilled the duty that ought to be fulfilled by a creature of God, and set an exemplar, and acted as a model, for all those whom God wishes to save, allowing people to see that it is entirely possible to triumph over Satan by relying on God. And what was his value to God? To God, the value of Job's life lay in his ability to fear God, worship God, testify to the deeds of God, and praise the deeds of God, bringing God comfort and something to enjoy; to God, the value of Job's life was also in how, before his death, Job experienced trials and triumphed over Satan, and bore resounding testimony to God before Satan and the people of the world, glorifying God among mankind, comforting God's heart, and allowing God's eager heart to behold an outcome, and see hope. His testimony set a precedent for the ability to stand firm in one's testimony to God, and for being able to shame Satan in behalf of God, in God's work of managing mankind. Is this not the value of Job's life? Job brought comfort to God's heart, he gave God a foretaste of the delight of being glorified, and provided a wonderful beginning for God's management plan. And from this point onward the name of Job became a symbol for the glorification of God, and a sign of mankind's triumph over Satan. What Job lived out during his lifetime and his remarkable triumph over Satan will forever be cherished by God, and his perfection, uprightness, and fear of God will be venerated and emulated by generations to come. He will forever be cherished by God like a flawless, luminous pearl, and so too is he worth treasuring by man!
Next, let us look at God's work during the Age of Law.
D. The Regulations of the Age of Law
1. The Ten Commandments
2. The Principles for Building Altars
3. Regulations for the Treatment of Servants
4. Regulations for Theft and Compensation
5. Keeping the Sabbath Year and the Three Feasts
6. Regulations for the Sabbath Day
7. Regulations for Offerings
a. Burnt Offerings
b. Meat Offerings
c. Peace Offerings
d. Sin Offerings
e. Trespass Offerings
f. Regulations for Offerings by Priests (Aaron and His Sons Are Ordered to Comply)
1) Burnt Offerings by Priests
2) Meat Offerings by Priests
3) Sin Offerings by Priests
4) Trespass Offerings by Priests
5) Peace Offerings by Priests
8. Regulations for the Eating of Offerings by Priests
9. Clean and Unclean Animals (Those Which Can and Cannot Be Eaten)
10. Regulations for the Purification of Women Following Childbirth
11. Standards for the Examination of Leprosy
12. Regulations for Those Who Have Been Healed of Leprosy
13. Regulations for Cleansing Infected Houses
14. Regulations for Those Suffering From Abnormal Discharges
15. The Day of Atonement That Must Be Observed Once a Year
16. Rules for the Slaughtering of Cattle and Sheep
17. The Prohibition of Following Detestable Practices of Gentiles (Not Committing Incest, and So On)
18. Regulations That Must Be Followed by the People ("You shall be holy: for I the LORD your God am holy.")
19. The Execution of Those Who Sacrifice Their Children to Molech
20. Regulations for the Punishment of the Crime of Adultery
21. Rules That Should Be Observed by Priests (Rules for Their Everyday Behavior, Rules for the Consumption of Holy Things, Rules for Making Offerings, and So On)
22. Feasts That Should Be Observed (the Sabbath Day, Passover, Pentecost, the Day of Atonement, and So On)
23. Other Regulations (Burning the Lamps, the Year of Jubilee, the Redemption of the Land, Making Vows, the Offering of Tithes, and So On)
From God's Work, God's Disposition, and God Himself II
Read more: God's Work, God's Disposition, and God Himself (II)
Chat With Us!
If you want to go deeper into Bible study and learn the news of the Lord's return, you're welcome to contact us at any time.