To Adam also and to his wife did the LORD God make coats of skins, and clothed them.
– Genesis 3:21
Thoughts on Today's Verse…
The supreme God personally made clothes for Adam and Eve. Here we feel that God is not a vague or mysterious God, but a humble and loving God. Just like our parents concern for us, God took care of Adam and Eve's basic necessities, worried about them and took responsibility for them. This makes me think of God's words: "God created these two people and treated them as His companions. As their only family, God looked after their living and also took care of their basic necessities. Here, God appears as a parent of Adam and Eve. While God does this, man does not see how lofty God is; he does not see God's paramount supremacy, His mysteriousness, and especially not His wrath or majesty. All he sees is God's humbleness, His affection, His concern for man and His responsibility and care toward him. The attitude and way in which God treated Adam and Eve is akin to how human parents show concern for their own children. It's also like how human parents love, look after, and care for their own sons and daughters—real, visible, and tangible. Instead of putting Himself in a high and mighty position, God personally used skins to make clothing for man." What great love God shows to mankind!
You might be interested in: What Was God's Will to Make Coats of Skins for Adam and Eve?
---
Today's Verse Illustrated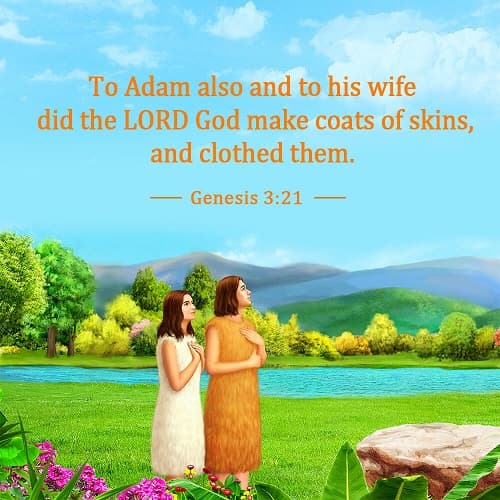 Chat With Us!
Now disasters are growing in scale. It is the most important thing to welcome the Lord soon. Our sermons will help you find the way.