My brothers, count it all joy when you fall into divers temptations; Knowing this, that the trying of your faith works patience.
– James 1:2-3
Thoughts on Today's Bible Verse:
From this verse, we can know that God tests our faith through trials, so we should accept trials with joy. However, once trials come upon us, we become negative, lose faith and even blame God. For example, some time ago I was ill and lived in pain. And I didn't get better after praying to God, so I lost faith in Him, neither wanted to read His word nor prayed to Him, and even harbored suspicions about Him, and lived in negativity. Later, I understood the meaning of God's trials from His will. God says, "God can perfect man in both positive and negative aspects. It depends on whether you are able to experience, and on whether you pursue being perfected by God. If you truly seek being perfected by God, then the negative cannot make you suffer loss, but can bring you things that are more real, and can make you more able to know that which is lacking within you, more able to come to grips with your real states, and see that man has nothing, and is nothing; if you do not experience trials, you do not know, and will always feel that you are above others and better than everyone else. Through all this you will see that all that came before was done by God and protected by God. Entry into trials leaves you without love or faith, you lack prayer, and are unable to sing hymns—and, without realizing it, in the midst of this you come to know yourself. God has many means of perfecting man. He employs all manner of environments to deal with the corrupt disposition of man, and uses various things to lay man bare; in one regard He deals with man, in another He lays man bare, and in another He reveals man, digging out and revealing the 'mysteries' in the depths of man's heart, and showing man his nature by revealing many of his states. God perfects man through many methods—through revelation, dealing, refinement, and chastisement—so that man may know that God is practical."
From God's words, we can see God tests us in order to purify our faith and make us know our own deficiencies. Before becoming ill, I always thought that I could maintain my faith in God regardless of what happened to me. However, when I was ill, I found that my faith was so small. I still blamed God and wounded His heart. I will try to improve my deficiencies and strive to stand testimony in the next trial, no longer complaining. After I figured out this, I understood God's painstaking intentions in testing me.
Regardless of what kind of trial happens to us, we should learn to accept God's trial with joy and obey His sovereignty and arrangements.
Prayer:
Oh God, I misunderstood You a lot and had no knowledge of Your love. When the trial of the illness came upon me, I couldn't obey You. I always thought Your love consists of grace and blessings. I never knew that trials are Your love and salvation for me. I cannot let You down again. I am willing to seek Your will and obey Your sovereignty and arrangements. May You guide me. Thank God. Amen.
---
Today's Bible Verse Illustrated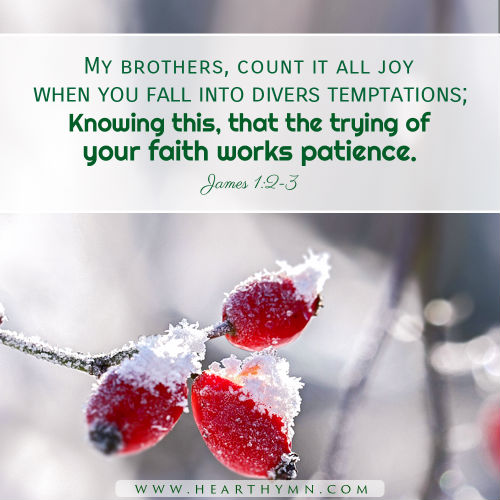 ---
• We welcome you to use our Bible Verse of the Day to enrich your spiritual life.
Chat With Us!
Frequent disasters occur in the last days. Do you want to know how to get rid of sin and enter the kingdom of God? Please join our online gathering to find the way.