By Qiao Yue
In the evening, the setting sun gradually dropped from the horizon, a severe heat filling the air. Having had supper at an early time, the elderly men, with small stools, were sitting around in twos and threes, having talks. A few naughty children were running about and a little tortoiseshell cat with narrow eyes was lying prone under the eave lazily, still.
At this time, from a room of a family came out the father's shouts, "I see there is only Jesus in your heart. You don't care about your parents or this family. In believing in Jesus, you, over thirty years of age, don't marry or work. Additionally, you've been arrested and imprisoned for three years. Soon after you were set free, you'll be out again. Get away! Get away quickly! Don't come back forever. I don't have a daughter like you!"
The voice disturbed the people enjoying the evening breeze. An old man shook his head and said, "Not having come back for very long, Jiahui offends her father again." "Yeah. In order to believe in the Lord, she has given up home and occupation for over ten years, and spent three years in prison. She just got out but has been kicked out again by her father." Another old man said, shaking his head and giving a deep sigh.
Jiahui is a preacher of a family church. She has inborn intelligence. At the age of twelve, she accepted the gospel of the Lord Jesus. Since then, she has had faith in the Lord for twenty years. And she has learned theology for three years. Now she is an excellent preacher. However, her parents have a negative opinion of her belief in the Lord. Now she has been driven out by them.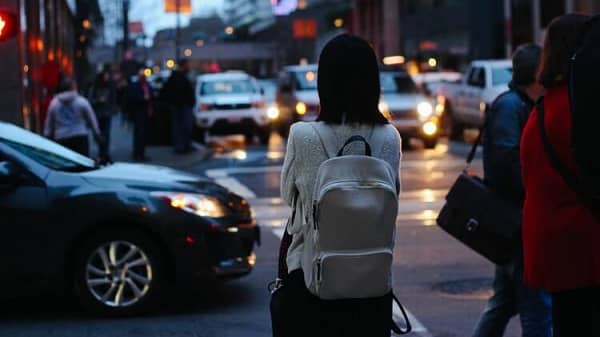 After a while, Jiahui came out of her family's home with her suitcase, her eyes filling with tears, but her footsteps went forward firmly. She looked at these familiar old people with a smile and disappeared out of their eyesight along the alley.
She came into the place for the gathering of coworkers, put down her suitcase and sat on a chair. Everybody's eyes were focused on her. They became silent at once.
Liu Xiaoping, by her side, asked in a quiet voice, "Have you been driven out again by your family? Are your parents still angry with you?"
Jiahui shook her head with a sigh and said bitterly, "Yeah. How can they possibly understand me? The viewpoints of the believers are not in accordance with those of the unbelievers. This is the cross that I should take up. We will not attain the Lord's approval if we don't suffer. Now the prophecies of the coming of the Lord have all been fulfilled. The Lord will soon rapture us into His heavenly home. How wonderful the kingdom of heaven is! Enduring this suffering now is temporary. Isn't it said in the Bible, 'For our light affliction, which is but for a moment, works for us a far more exceeding and eternal weight of glory' (2Co 4:17). Thinking of the blessings in the future, I think no matter how much we suffer and no matter how many tears we shed for the Lord, they have been worth it! When the Lord comes back to rapture us, we will not suffer anymore."
Clapping Jiahui on the shoulder, Liu Xiaoping said, "Yes. It's our blessings to suffer for the Lord." With these words, Liu Xiaoping lowered her tone and said, "However, I am thinking about this recently: The Lord Jesus said, 'Not every one that said to me, Lord, Lord, shall enter into the kingdom of heaven; but he that does the will of my Father which is in heaven' (Mat 7:21). I always think although we sacrifice something and work hard, we still sin and offend the Lord. Confronting something untoward, we will complain against the Lord; when working, we follow our own intentions, have no place of the Lord in our heart, nor do we consider obeying His will. How can we thus be called people who obey the will of the heavenly Father? A question has remained in my heart for a long time: Do we have the qualifications for entering into the kingdom of heaven?"
Knowing the feeling clearly herself, Sister Gao said, "In my spare time, I often examine myself: Am I the one who obeys the way of the Lord during the last forty years of my faith in the Lord? Am I qualified to enter into the kingdom of heaven? Will I be raptured when the Lord returns? The Lord said, 'Whoever commits sin is the servant of sin. And the servant stays not in the house for ever: but the Son stays ever' (Jhn 8:34-35). God is holy and His kingdom is a holy place. Although I have sacrificed and labored for the Lord for many years, I often sin and tell lies; I haven't done great evils, but I still can't be purified. How can I have the qualifications for entering into the kingdom of heaven? The more I think about this, the more insecure I feel within."
Wei Defu on one side got the reins and said confidently, "Sister Gao, you've worked hard all your life for the Lord. Because of your preaching, you had been in prison for ten years and suffered so much, but you didn't deny the name of the Lord. This proves you've borne testimony to the Lord. This is certainly to be praised by the Lord. Although we sometimes sin, tell lies and cannot put the Lord's word into practice, He will not condemn us as sinners for He has abundant grace. In believing in the Lord, we can be saved and enter the kingdom of heaven by grace. This is my comprehension." Jiahui nodded her head on one side.
Having a look at Jiahui and Wei Defu, Brother Zheng An thought a while and said, "I can't agree with you. It is right for us to work hard for the Lord. However, can hard work mean that we are holy, we obey the way of God, and that we have been fully in consistent with God's will? The Lord said, 'Be you holy; for I am holy' (1Pe 1:16). At present, though we can work hard and show some good behaviors, we still haven't practiced much of the Lord's word. Like loving others as ourselves, loving our enemies and being the light of the world and the salt of the earth, these things haven't been realized upon us. We often commit sins and confess them. In what sense are we the holy people? We aspire to be taken up into the kingdom of heaven in this way. Isn't that somewhat unrealistic?" Everyone bent his head and said nothing. The air seemed to have been frozen.
At this moment, Jiahui frowned and said in bewilderment, "We have abandoned everything to follow the Lord, spreading the gospel, sacrificing, being in prison, and paying the price of suffering for the Lord. Wasn't this obeying the will of the heavenly Father? The apostle Paul said, 'I have fought a good fight, I have finished my course, I have kept the faith: From now on there is laid up for me a crown of righteousness' (2Ti 4:7-8). You see, there are so many believers in the Lord. How many of them can truly forsake everything to preach the gospel and make great sacrifices for the Lord? Those working hard are the people who are to get rewards from the Lord in the kingdom of heaven. As long as we have faith, abandon all things, spread the gospel more and work hard for the Lord, we are certain to enter into the kingdom of heaven in the end."
Wei Defu said approvingly, "Jiahui is right. Brother Paul pointed out this way for us. I firmly believe that providing we make many sacrifices and pay the price according to his instruction, we will be able to enter into the kingdom of heaven."
Faced with this disputation, Liu Xiaoping was a little confused, murmuring, "These words are plainly said by Paul. However, they are regarded as God's words just for they are written in the Bible. Are they Paul's words or God's? Can Paul's words really represent God's words?"
Brother Zheng An said sternly and solemnly, "We believers in the Lord should use the Lord's word as our basis for everything, especially for entering into the kingdom of heaven. The words of Paul and other apostles were recorded in the Bible, but they can't represent the words of the Lord Jesus. What's more, the Lord didn't witness that the path Paul had walked was proper, nor did He witness that Paul had already been raptured into the kingdom of heaven. According to what Paul said, on condition that we work hard for the Lord, we will be able to obtain rewards and enter into the kingdom of heaven. If so, couldn't all of the Jewish Pharisees who compassed sea and land spreading the gospel but resisted and convicted the Lord Jesus enter the kingdom of heaven? Couldn't those who preach and cast out devils in the name of the Lord but don't follow God's way then also have the qualifications for entering into the kingdom of heaven? Isn't this viewpoint opposite to that of the Lord Jesus? We haven't seen, from the Bible, that the Lord ever said such words. Instead He told us clearly, 'Be you holy; for I am holy' (1Pe 1:16). 'Not every one that said to me, Lord, Lord, shall enter into the kingdom of heaven; but he that does the will of my Father which is in heaven' (Mat 7:21). From the Lord's words, we can be sure that we have been forgiven of our sins but are not qualified to enter into the kingdom of heaven. Not until we are purified and become the men who can obey God's will can we enter into the kingdom of heaven. That we believe in God relying on notions and imaginations violates the Lord's will and deviates from His way. Not only can we not get the Lord's approval, but rather we will be loathed by Him." Hearing the sharp refutation of Zheng An, Jiahui hurried to skim through, in the Bible, the scriptures mentioned by Zheng An just now. She knitted her brows at once, shut the Bible and then lowered her head, deep in thought. Wei Defu, however, sat aside, indifferently.
Sister Gao said with emotion, "Right. People who can enter into the kingdom of heaven are those who must rid themselves of sin and be cleansed, and who can obey God's way, submit to God, love God and worship Him. Because God is holy. People entering the kingdom of heaven will live with God. How can an impure man enter into the kingdom of God? Think back to the Jewish Pharisees of that time. Why could all that they did not be approved by the Lord Jesus? Primarily because they suffered for preaching in fact in order to get profits and rewards. God is righteous. He sees into the depths of man's heart. So when the Lord Jesus came to do His work, they were completely exposed. In order to safeguard their position and livelihood, they frantically condemned and resisted the Lord Jesus, were in enmity to Him, and crucified Him. As a consequence, they suffered the curse and punishment of God. This is a known fact. Though we can forsake all and work hard, yet we act not out of love for the Lord but of gaining blessings and rewards. Can we be considered holy? We cannot achieve the standard of entering into the kingdom of heaven at all!"
After hearing this, Jiahui could not help but feel a little sad. She thought of the Lord's word, "You shall love the Lord your God with all your heart, and with all your soul, and with all your mind. This is the first and great commandment. And the second is like to it, You shall love your neighbor as yourself" (Mat 22:37-39). However, she has abandoned everything and worked hard during these years of her faith in the Lord in exchange for rewards and for entering the kingdom of heaven instead of obeying and loving the Lord. If she holds onto this view to go forward, then she is exactly treading the same path as that of the Pharisees. As can be seen, hard work is not of primary importance. Rather, the most important thing is to follow the commandments of the Lord, to submit to Him and love Him. After the fierce disputation, Jiahui saw more clearly and distinctly the way of believing in God ahead.
---
• For free resources on how to enter the kingdom of heaven, read here: Kingdom  of Heaven. We sincerely hope we'll grow spiritually through sharing with each other.
Peace be with you all! Dear brothers and sisters, if you have any understanding or enlightenment from God, you're welcome to share with us.
1. Via the online chat window at the bottom right corner of the screen.
2. Send an email to [email protected].
We sincerely hope we'll grow spiritually through sharing with each other.