15 Bible Verses About Worship: Key Ingredients for Worshiping God
Bible Verses about Worship - These Bible verses about worship not only help us quiet our hearts before God so that we can learn to worship God in spirit and in truth, but also help us think about God's love and provoke us to love God.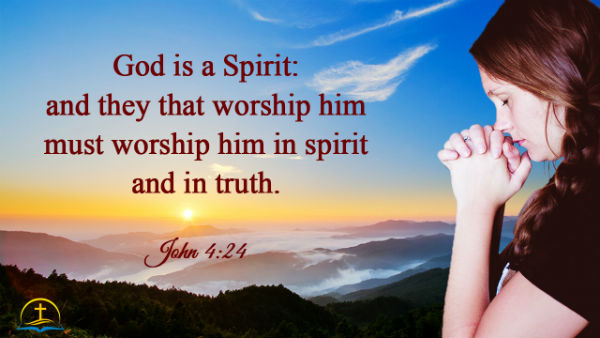 Quick Navigation
The Object of Worship: Worship the One True God
Psalm 8:1 O LORD, our Lord, how excellent is your name in all the earth! who have set your glory above the heavens.
1 Kings 8:60 That all the people of the earth may know that the LORD is God, and that there is none else.That all the people of the earth may know that the LORD is God, and that there is none else.
Psalm 92:8 But you, LORD, are most high for ever more.
2 Samuel 22:47 The LORD lives; and blessed be my rock; and exalted be the God of the rock of my salvation.
Exodus 34:14 For you shall worship no other god: for the LORD, whose name is Jealous, is a jealous God.
How to Worship: Worship God in Spirit and Truth
1 Chronicles 16:34 O give thanks to the LORD; for he is good; for his mercy endures for ever.
John 4:23 But the hour comes, and now is, when the true worshippers shall worship the Father in spirit and in truth: for the Father seeks such to worship him.
John 4:24 God is a Spirit: and they that worship him must worship him in spirit and in truth.
Matthew 15:9 But in vain they do worship me, teaching for doctrines the commandments of men.
Matthew 7:21 Not every one that said to me, Lord, Lord, shall enter into the kingdom of heaven; but he that does the will of my Father which is in heaven.
Know God's Deeds and Worship God
Psalm 111:3,6 His work is honorable and glorious: and his righteousness endures for ever. ...He has showed his people the power of his works, that he may give them the heritage of the heathen.
Psalm 111:9 He sent redemption to his people: he has commanded his covenant for ever: holy and reverend is his name.
Psalm 111:8 They stand fast for ever and ever, and are done in truth and uprightness.
Romans 12:1-2 I beseech you therefore, brothers, by the mercies of God, that you present your bodies a living sacrifice, holy, acceptable to God, which is your reasonable service. And be not conformed to this world: but be you transformed by the renewing of your mind, that you may prove what is that good, and acceptable, and perfect, will of God.
Revelation 14:7 Saying with a loud voice, Fear God, and give glory to him; for the hour of his judgment is come: and worship him that made heaven, and earth, and the sea, and the fountains of waters.
Extended Reading:
Relevant Words of God:
How can true worship be produced? There are none who see God and truly know God who do not worship Him, who do not revere Him. As soon as they see God they are afraid. At present people are in the time of the work of God incarnate. The more that people have understanding of the disposition of God incarnate and of what He has and is, the more people treasure them, and the more they revere God. Often, less understanding means more recklessness, such that God is treated as human. People will fear and tremble if they really know God and really see Him. Why did John say, "the One who is coming after me, whose sandals I am not worthy to carry"? Though his understanding in his heart was not very deep, yet he knew that God is awesome. How many people are able to revere God now? Without knowing the disposition of God, how can one revere Him? If people do not know the essence of Christ, and do not understand the disposition of God, they are even less able to truly worship God. If people see only the ordinary and normal outward appearance of Christ and do not know His essence, it is easy for people to treat Christ as an ordinary man. They can adopt a disrespectful attitude toward Him, can cheat Him, resist Him, disobey Him, cast judgment on Him, and be opinionated. They can take His word as insignificant, can treat His flesh as they please, can harbor conceptions, and can blaspheme. To solve these issues one must know the essence of Christ, the divinity of Christ. This is the main aspect of knowing God; it is what all people who believe in the practical God must enter and achieve.
from "Knowledge of the Incarnation"
Someone who truly carries out God's will can emit praise from deep in their heart in the midst of God's judgment, chastisement, and trials, and is able to fully obey God and forsake themselves, thus loving God with a heart of sincerity, single-mindedness, and purity; such is a complete person, and it is also the work that God wants to do, and is what God wants to accomplish.
from "On the Steps of God's Work"
• Welcome to use our Bible Verses By Topic page to quickly find verses about popular topics.
Join Online Meeting Group
Did you know? God is using all sorts of ways to tell you the good news that the Lord has returned. Are you ready to welcome the Lord's coming?
Leave a Reply